At a Glance
Expert's Rating
Our Verdict
Note: This review is part of a roundup of 11 canalbud headsets. Visit the roundup page for more information and comparative buying advice.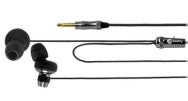 Macally's $50 HifiTune sports the most unusual design in this roundup, falling somewhere between earbuds and canalbuds. Each earpiece uses a larger driver than most models I tested, and as a result does not fit entirely in the ear. Instead, each earpiece has a tube that protrudes at an angle and is fitted with a silicone eartip that forms a loose, shallow seal in your ear. In this respect, the HifiTune's earpieces resemble those of the Bose In-Ear Headphones and can be thought of as earbuds but with a more secure fit and more isolation. The HifiTune includes three sizes of silicone eartips in both black and gray, along with a slightly oversized faux-leather carrying pouch.
As with the aforementioned Bose model, the loose fit of the HifiTune's earpieces leads to a lack of low-frequency bass. However, unlike the Bose headphones, the HifiTune offers ample midbass and less-exaggerated upper bass, resulting in a sound signature similar to that of a pair of bookshelf speakers. Some people will find the increased comfort and decreased isolation, relative to more-traditional canalbud designs, to be worth this low-frequency sacrifice. Indeed, the HifiTune managed to sound good despite the lack of low bass and a bit of missing treble and midrange detail—the midrange is still smooth and pleasant. Larger eartips may have provided a better seal, and thus better low-frequency response, but the included small tips were comfortable.
Physically, the HifiTune resembles V-Moda's original Vibe: gunmetal-gray, metal earpieces with black highlights; a black, cloth-wrapped cord; a substantial-feeling plug of the same metal; and an even chunkier remote/microphone module located at the Y junction of the cord. (The cables going to the earpieces differ in length so the longer one can be worn behind the neck.) The remote pod's button is on the small side and takes some getting used to, and the microphone is of average quality—like that of the NuForce NE-7M, a little muffled compared to the microphone on Apple's stock earbuds.
While there are better-sounding headsets, I liked the design of the HifiTune. Given the design and audio similarities between the HifiTune and Bose's (more expensive) In-Ear Headphones, those already considering the Bose should look hard at this alternative.