At a Glance
Expert's Rating
Our Verdict
Note: This review is part of a roundup of 11 canalbud headsets. Visit the roundup page for more information and comparative buying advice.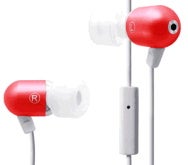 I previously reviewed the Atomic Bass ( ), the non-headset version of the $50 Radius Atomic Bass Earphones for iPhone, and found the two models to sound identical. When properly fitted (for me, upside down with the cables routed behind my ears), each offers tight, relatively detailed bass and above-average isolation, with slightly below-average comfort. Midrange and treble frequencies are slightly recessed, but aren't overpowered by the bass. The NuForce NE-7M sounds just a bit better, but the Atomic Bass for iPhone is far from bad.
The iPhone version of the Atomic Bass includes, of course, a small remote/microphone module—this one positioned on the left side of the headphone cable's Y split. This little pod is almost identical in size, appearance, and function to the one on Apple's older (one-button) iPhone headset, although I found that Radius' microphone sounded louder and clearer, and was one of the best mics I tested.
The Atomic Bass is a strong performer for its price, and I would recommend it over the NuForce NE-7M mainly if you make enough calls using a headset that the superior microphone would offset the slight decrease in sound quality. (It's also worth noting that Radius claims the Atomic Bass is ideal for those with small ears.)