At a Glance
Expert's Rating
Our Verdict
Note: This review is part of a roundup of 11 canalbud headsets. Visit the roundup page for more information and comparative buying advice.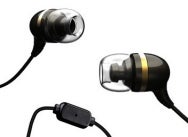 One thing I loved when I reviewed Altec Lansing's $30 Backbeat Classic ( ), also available in a $40 headset model, was its thick, fabric-wrapped cord. Thankfully, that feature is also present in Plantronics' $50 BackBeat Plus Mobile, which is a step up the same headphone line. (Plantronics recently sold its Altec Lansing division; however, headsets formerly sold as Altec Lansing products will continue to be offered by Plantronics under the Plantronics brand.)
Besides the nice cable, the BackBeat Plus Mobile shares with its former sibling the same three sizes of clear-silicone eartips, and traditional—though slightly larger—canalbud-style rounded earpieces with a unique gold-on-black color scheme. The shallow fit results in only moderate isolation.
The Backbeat Plus Mobile has a small microphone module on the right section of the Y-split cord, and a remote module located about two inches below the Y-junction. In my testing, the microphone was one of the best here, sounding smoother and fuller than that of Apple's stock earbuds. However, the remote module's position made it difficult to locate by feel, and I found its small, raised button difficult to press compared to several other models that allow you to press anywhere on their surface. Given the size of the remote module, I would have preferred it to be integrated into the Y-junction or to be part of the microphone module.
In terms of audio performance, the BackBeat Classic was an adequate performer in the midrange and treble frequencies, and, as you might expect, the BackBeat Plus offers slight improvements in these areas. However, I found it a challenge to get the Plus' larger earpieces to seal well enough for solid bass performance. When I did get a good seal, the Plus' bass performance was noticeably cleaner than that of the Classic. However, the fit issues interfered enough to steer me towards other models with better ergonomics and comparable or better sound.