At a Glance
Expert's Rating
Our Verdict
Note: This review is part of a roundup of 11 canalbud headsets. Visit the roundup page for more information and comparative buying advice.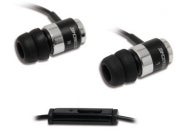 The earpieces of Schosche's IDR400m are clean, black-plastic cylinders with chrome highlights and an industrial look. The headphone plug, Y-junction, and remote/microphone module are similarly simple and cleanly designed. On the other hand, on the unit I tested, the caps at either end of the remote module were not flush with the module's body, and as with the Plantronics BackBeat Plus Mobile, the IDR400m's small remote button is difficult to locate and press.
The IDR400m includes a carrying pouch, as well as three sizes each of single- and double-flanged eartips. I achieved the best fit from the dual flanges, although the resulting bass was bloated, with unimpressive midrange and treble response. The microphone was also a disappointment, needing to be positioned close to the mouth for telephone conversations, making it one of the worst in this roundup. Although the IDR400m's design is attractive, as a headset I can't recommend it over the less-expensive NuForce NE-7M or Radius Earphones Atomic Bass.