At a Glance
Expert's Rating
Our Verdict
Note: This review is part of a roundup of 11 canalbud headsets. Visit the roundup page for more information and comparative buying advice.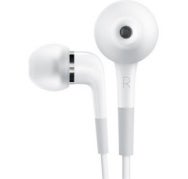 When Apple announced the $79 Apple In-Ear Headphones with Remote and Mic alongside the Fall 2008 iPod lineup, some headphone aficionados had high expectations due to the In-Ear Headphones' dual-driver design (one driver for higher frequencies, another for lower frequencies). This type of design, usually found only in more-expensive models, lets each driver focus on the frequencies it produces best.
The sonic results are mixed, but positive overall. The Apple model produces balanced and detailed treble—perhaps the best here. The midrange frequencies are similarly well-balanced, although perhaps not as detailed. It's in the lower frequencies where the In-Ear Headphones may disappoint some listeners. Many consumer headphones exhibit a slight bass boost to compensate for the lack of the physical impact that you would get from full-size speakers. In contrast, Apple appears to have designed the Headphones with bass response that's technically more accurate than the competition, but can sound unnaturally thin by comparison. Once I listened for a while, however, my brain adjusted to this difference and the In-Ear Headphones' bass sounded deep and detailed. Bassheads will likely be disappointed, however, so I recommend some extended listening to see if this design decision bothers you.
As you might expect from an Apple product, the In-Ear Headphones with Remote and Mic feature a number of special design touches. The packaging is attractive, as usual. The earpieces are a clean, modern combination of shiny metal, white plastic, and gray rubber, with gray, rubber cables like those of Apple's standard earbuds. (A cord-adjusting slider can be positioned above or below the remote/microphone module.) The svelte, three-button microphone/controller pod is sharp looking, but a bit difficult to operate due to its small size.
Like many headsets in this roundup, the earpieces feature a metal filter at the end to prevent gunk from reaching the potentially fragile interior of the headphones. Uniquely, the In-Ear's filters screw on and are easy to replace for those prone to getting their headphones dirty. A small, triangular, white-and-clear plastic case is included that provides a way to wrap the headphone cord, but the case can be difficult to close.
Apple includes small, medium, and large eartips; the two you aren't using can be stored inside a pill-shaped capsule. These silicone eartips thoughtfully feature a stiffer, thicker rubber where they fit over the earpieces, making them much easier to install than eartips for other headsets I've tried. The In-Ear's eartips also provide an easy-to-seal, shallow fit that still managed to create strong isolation.
On the other hand, microphonics are among the worst of the models in this roundup, so the In-Ear Headphones might be a poor choice for active use. And the microphone is of only average quality: even compared to the microphone in Apple's stock iPhone earbuds, the In-Ear's mic was too quiet in my testing, and it made male voices sound thin.
Despite my initial perception of these headphones as being bass-shy, I enjoyed the experience. The In-Ear Headphones are comfortable, fit well, and provide a great overall sound. Though other models may feature subjectively better bass, few match the design, and I expect all but bassheads will be satisfied with the sound quality.