It seems like many of the Websites I visit these days request a login. Whether it's online banking, Twitter, Facebook, or a blog site, everyone wants a username and password.
Until the industry adopts a standard single sign-on system, such as OpenID, it looks like we're going to be stuck managing multitudes of unique usernames and passwords. After years of this insanity, I got fed up and installed a password manager that I've come to rely on daily (actually hourly). Agile Web Solution's 1Password desktop application helps me generate extremely secure passwords for all my sites, stores them away from prying eyes, and enters them for me almost automatically. It also lets me store all my credit card numbers, auto-populates payment forms, and even gives me a secure place where I can store software license keys, encrypted notes and so on. What's more, 1Password backs everything up to my Dropbox account for safekeeping.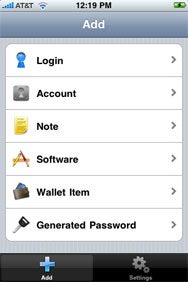 So I have a solution that works great on my Mac. But what about for password-protected sites I come across when browsing on my iPhone? The obvious answer: use the 1Password app for the iPhone and iPod touch.
While completely functional as a standalone app, the iPhone version really shines when used in conjunction with its desktop counterpart. There are two versions: a $5 edition (which Macworld has previously reviewed) and the $8 1Password Pro.
The first time you open either version of the app, you'll be required to create two logins: a 4-digit unlock code, and a longer master password. 1Password will prompt you for the unlock code each time you open the app; then you'll need to enter the master password each time you want to use one of your saved items. (You can disable the master password on an item-by-item basis if you want, but keep in mind that if someone gets your unlock code, they'll have access to those unsecured items.)
If you use the desktop version of 1Password, you'll want to sync up the mobile version over Wi-Fi in order to get all your data. (You'll also want to sync periodically to keep both systems on par with on another.) If you don't use the desktop application, then you can enter all of your logins, credit cards, and other sensitive data directly within the mobile version of 1Password.
As with the desktop version, the feature I use most on the iPhone is 1Password's "auto login" feature. You can either use the app's built-in Web browser or—if you're using the Pro version—you can copy and paste your login data into Safari. (This feature is left out of the basic version.) While it's great to have credit card numbers, passport info and other sensitive data stored securely at my fingertips, for me, the auto-login feature alone is worth the price.
While I really like 1Password, the mobile offering isn't without its flaws. First, I'd like to see 1Password Pro's Safari integration work a little more seamlessly. Agile Web Solutions' Website describes how to create the necessary Safari bookmarklet but the instructions are pretty difficult for the non-geek to follow. And, while functional enough, the Safari integration seems a little kludgy. To be fair, though, Apple can share some of this blame since it currently doesn't allow background processing on the iPhone, requiring developers to come up with creative workarounds.
It would also be nice if Agile Web Solutions offered an in-app upgrade path from the regular version to the pro version. As it stands now, if you decide to move up to 1Password Pro, you have to cough up the full price again. If you don't synch with the desktop app, then you have to be careful to backup your 1Password data so that that it can be imported into the pro version. So, if you're waffling between which version to buy, it might be wiser to go the Pro version at the start.
In these days of login-mania, a password manager is almost a requirement if you want to keep your data secure while maintaining your sanity. 1Password on the Mac and the iPhone is a hard combination to beat.
[Brian Beam is a web developer and partner with BOLD Internet Solutions, living somewhere near Kansas City.]