At a Glance
Expert's Rating
Our Verdict
Note: This review is part of a roundup of 11 canalbud headsets. Visit the roundup page for more information and comparative buying advice.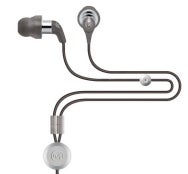 Maximo's iM-590 iMetal Isolation Earphones ( ) was a clear favorite in my canalbud roundup. The company's $80 iP-HS5 is essentially the same model with a remote and microphone for an extra $20. Like the iM-590, the i-HS5 is attractively designed, featuring both matte- and polished-metal highlights, grey rubber, and a black, cloth cord. Also like that model, an eight hour "burn-in" period of playing music on the headphones resulted in excellent sound with tight, deep bass and detailed high frequencies. The midrange didn't call attention to itself like the bass and high end, but still sounded very good. It was easy to get a good fit that provided strong noise isolation.
Maximo has once again included a wide range of accessories: a headphone extension cord, four sizes of gray silicone eartips, two 2.5mm adapters for use with other (non-iPhone) mobile phones, and a removable shirt clip. You also get a small, zippered, nylon carrying case, although I preferred the larger, rigid case included with the iM-590. New to this model is a length of fabric cord that clips to the headphone's cables and allows the headphones to be worn around the neck like a lanyard—a thoughtful touch that will appeal to some users.
This being a headset model, a beefy one-button remote is positioned at the cable's Y-junction. The remote feels durable, with a nice, meaty action. The microphone—located in a separate, small sphere on the left side of the cord—sounds full and natural, and is one of the best here.
As with the iM-590, I highly recommend the iP-HS5. The combination of excellent sound quality—my personal favorite of the models I tested—numerous accessories, solid design, and a good remote and microphone at a great price make it a winner. And if you prefer Comply's eartips, the T-200 size is compatible with the iP-HS5.
(Maximo has told Macworld that the company will soon be releasing a new model, the iP-595, which is essentially the iM-590 but with a three-button remote like the one on the iPhone's stock earbuds. Assuming it is indeed otherwise the same as the iM-590 and iP-HS5, the $80 IP-595 will be worthy of your consideration.)
Updated 3/9/2010: Edited to reflect compatibility with Comply eartips.