At a Glance
Expert's Rating
Our Verdict
Note: This review is part of a roundup of 11 canalbud headsets. Visit the roundup page for more information and comparative buying advice.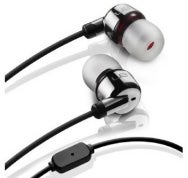 In my canalbud roundup, I found Ultimate Ears' MetroFi 220 ( ) to be well-rounded and easy to recommend. I feel much the same way about the nearly-identical $90 Ultimate Ears MetroFi 220vi, which adds a remote and microphone.
Once again, I found the 220vi's earpieces attractive thanks to mercury-like metal bodies and translucent caps. The 220vi similarly includes three pairs of clear-silicone eartips and a small, zippo-like plastic carrying case. The fit of the earpieces is relatively shallow, but it's easy to get a good fit with ample noise isolation. As with the 220, I wish the 220vi had a more pliable cord that did not curl up on itself.
The 220vi includes small, separate remote and microphone modules nearly identical to those on the Plantronics BackBeat Plus Mobile. The microphone sits on the right side of the Y-split cable, with the remote on the main cable, approximately two inches below the Y-junction. The remote would be better positioned by combining it with the Y-junction or microphone module, and I found the button itself a bit difficult to press. As with the BackBeat Plus Mobile, the 220vi's microphone sounded good, though not quite as detailed as the BackBeat Plus version.
The 220vi's sound quality is easy to like: it's relaxed and refined, with a slightly warm balance that doesn't sound bloated. You get perhaps the best midranges performance of the lot, along with detailed but restrained treble. Although there are elements of the 220vi's design that I feel could be improved, the sound quality makes this model easy to recommend.