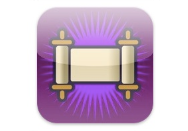 The iPhone can do many things, but now there's an impressive new feature to add to the list: It can help you become a man.
This week, Davka Corporation announced the launch of iBless Torah for iPhone and iPod touch, a $2 app that will almost have Bar and Bat Mitzvah tutors across the globe crying "Oy vey!"
The app aims to teach young Jews the blessings recited before and after reading from the Torah and Haftarah. iBless Torah displays the blessings in Hebrew, with transliterated English below, and highlights each word as you hear it sung.
iBless Torah won't help the Bar Mitzvah child prepare his big speech—although Davka actually offers an app to help with that, too.