At a Glance
Expert's Rating
Our Verdict
Note: This review is part of a roundup of 11 canalbud headsets. Visit the roundup page for more information and comparative buying advice.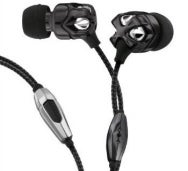 V-Moda made a name for itself with its fun, (relatively) inexpensive, and design-conscious Vibe model, several iterations of which were reviewed by Macworld . The $120 V-MODA Vibe II appears to be a worthy successor to that line of products.
Though V-Moda's designs are, in some ways, the opposite of Apple's clean, modern aesthetic, it's obvious that much thought and effort was put into the look and function of the Vibe II. First is a sturdy, 45-degree headphone jack, which combines the durability of right-angle plugs with the convenience of a straight plug. The nice touches continue with a luxurious cloth-wrapped cable; a hefty, metal remote module at the Y-junction; a similar microphone module on the right side of the cord; and (on the model I tested) chunky, black-metal earpieces with chrome highlights. (I prefer the look of the original Vibe, which strikes me as a cleaner, more interesting design, as opposed to the increased "bling" of the jewelry-like Vibe II.)
Four sizes of silicone eartips, including extra-small, are included in both clear and black, as are a shirt clip and a pair of earhooks for a more secure fit. You also get a faux-leather carrying case with an interior mesh pocket, a snap closure, and red piping reminiscent of the V-Moda logo.
The Vibe II's earpieces allow for a comfortable, shallow fit with strong isolation. Microphonics are worse than average, however, and the heft of the headphones, microphone, and remote take some getting used to. I also found the thick shape of the remote makes it difficult to identify its button by touch. The microphone is not quite as good as the best mics here, but it's better than average.
The Vibe line is notorious for strong bass, and the Vibe II is no exception: sound quality matches the midrange and treble of the Klipsch Image S4i but with boosted low bass—a trait that makes the Vibe II sound strong and confident. (As with the Image S4i, however, there's a tendency for the midrange and high frequencies to become a somewhat overwhelmed.) That fault aside—and for some listeners, it will be a plus, not a fault—the Vibe II's midrange performance is competitive with the other better models here, while treble detail isn't quite as good as that of the Apple In-Ear Headphones with Remote and Mic and Maximo iP-HS5. The Vibe II is the most expensive model I tested, but between the design, materials, accessories, and strong bass, you know exactly where your extra money is going.