Hard as it may be to believe, the original iPhone shipped two and a half years ago with just 16 applications, all of them designed by Apple. Today, that number has increased by a factor of thousands, a fact that Apple hasn't been the least bit shy about using to its advantage. After years of complaints that the Mac's software catalog was simply not as extensive as that of Windows, Cupertino seems to be relishing the about face. "There's an app for that" has become the rallying cry for a new generation of mobile computing. But Apple's next big thing, the iPad, is just over the horizon, and there may be a pothole or two in the way of it following the iPhone's path.
Yes, as Steve Jobs showed off when he demoed the iPad in January, nearly all of the iPhone's 140,000 applications will run on the device. But not seamlessly: you'll have the choice of running them in actual size, surrounded by a field of black, useless space, or comically blown up via crude pixel doubling. (Really, there's nothing like launching a super-sized version of the Facebook app to make you feel as though you are, indeed, running nothing more than the iPod touch equivalent of a jumbo-sized remote control.)
That brings us right to the nub of the problem: How are developers to create compelling applications with little knowledge about how to interact with the device? How are they to test the usability of those applications if they can't load them on a real honest-to-goodness iPad?
The iPhone didn't suffer from the same problem, because everybody had used one by the time the App Store debuted, a year after the phone was first released. And if all that the iPad necessitated was increasing the relative size of an application, then porting existing iPhone apps to the new device would be a snap.
But keep in mind that the larger size of the iPad isn't just about more screen real estate to display information—since it operates using a touch interface, we're talking about a whole lot more space to interact with your software. Apple raised the bar by showing off its iWork office suite running on the iPad and developers are eager to take advantage of the new possibilities that a larger control surface offers. Many developers are truly passionate about bringing great apps to the iPad, and they've gone to great lengths to gather the few crumbs that Apple has dropped—witness, for example, developer Fraser Speirs's Zapruder-esque deconstruction of the Jobs iPad speech.
The trouble is that even with the ability to run iPhone apps in a virtual simulator on their Mac, developers cannot fully replicate the experience of using an iPad—because nobody has one. And pretty much nobody outside of Apple, with the exception of the few hundred press and VIPs admitted to January's event— and Stephen Colbert—has so much as handled one.
And yet developers are being asked to design applications to show off just how cool the device can be and enhance its appeal for millions of potential customers. It's a little bit like being asked to decorate and furnish a room with your only reference being a photograph. Many developers have turned to making mockups of the device, ranging from cardboard and paper affairs to carved wood and 3D-printed models, just to get a feel for the iPad's size and form factor.
At its release, the iPhone was an ambitious, envelope-pushing device, but widespread success and sales didn't really come until the price dropped and, arguably more importantly, the App Store opened. Having an extensive application catalog at launch could go a long way for the iPad, which is even more ambitious than its phone predecessor, if for no other reason than it's an entirely new type of device. But it's not going to be existing iPhone apps that make the iPad a compelling purchase as much as applications designed with the iPad in mind—Apple's iWork suite, for example, or its iBooks reader.
So there are probably two ways for developers to go: produce a buggy, not-quite-right app for the device (probably a tweaked version of their iPhone app in order to avoid sinking too much time in something they'll probably have to redo anyway) or stay the heck out of the store until they've had a chance to actually use the device for a while. Neither of those seems particularly appealing to them—or, I'd wager, to Apple. It'd be like releasing a movie with unfinished special effects and a temporary score: imagine having watched the climactic scene of Avatar with a bunch of wireframe animations or actors in funny spandex suits in front of a bluescreen.
Developer Marco Arment suggests a third option, that Apple won't allow native third-party apps on day one. As much as that might seem like a good idea from a developer perspective, I have a hard time believing Apple will choose to go that way, if only because native apps have been so integral to the success of the iPhone.
As such, it should come as no surprise that Apple has been working with developers to have a collection high-profile iPad apps ready to go at launch. Developers have either gotten to visit Cupertino to lay their hands on an iPad, or had representatives from Cupertino visit them, iPad in tow. News Corp CEO and media mogul Rupert Murdoch has said that The Wall Street Journal has one kept "under padlock and key" by Apple (link behind WSJ's paywall). I'd be surprised if Electronic Arts, which has produced a number of popular games for the iPhone and has been trotted out at pretty much every developer event, hadn't got its hands on one.
But plenty of developers out there are going to have to wait until launch—and that's even trickier for developers outside of the U.S. For example, U.K.-based developers like Fraser Speirs and PCalc's James Thomson will have to wait until the end of April before they can get some time with the device. Developers outside of the handful of countries Apple specifically mentioned in its launch announcement will have even longer to drum their fingers on cardboard mockups, unless they can travel to a country where the iPad is already on sale.
I'm not suggesting Apple give each and every iPhone developer an iPad, since I imagine that would be cost prohibitive, not to mention flying in the face of Apple's tightly controlled product launch. But it would be great if developers had a chance to actually see and touch the hardware they're working with before releasing their apps: I'm thinking something like the Tech Talks that Apple periodically holds to allow developers to talk to the company's engineers.
And lest the company think that letting the cat out of the bag would ruin the surprise for the rest of us, consider that these people aren't just developers—they're also potential customers and among Apple's biggest fans. If anything, it would probably just help build the anticipation.
With the iPad now officially announced for April 3, time may be getting too short for Apple to roll out a concerted effort like this. But if it plans on showing off the device to its retail employees this month, as rumored (and we'll take that with a grain of salt), perhaps there is still an opportunity for Apple to give developers a hand.
iPad (2010)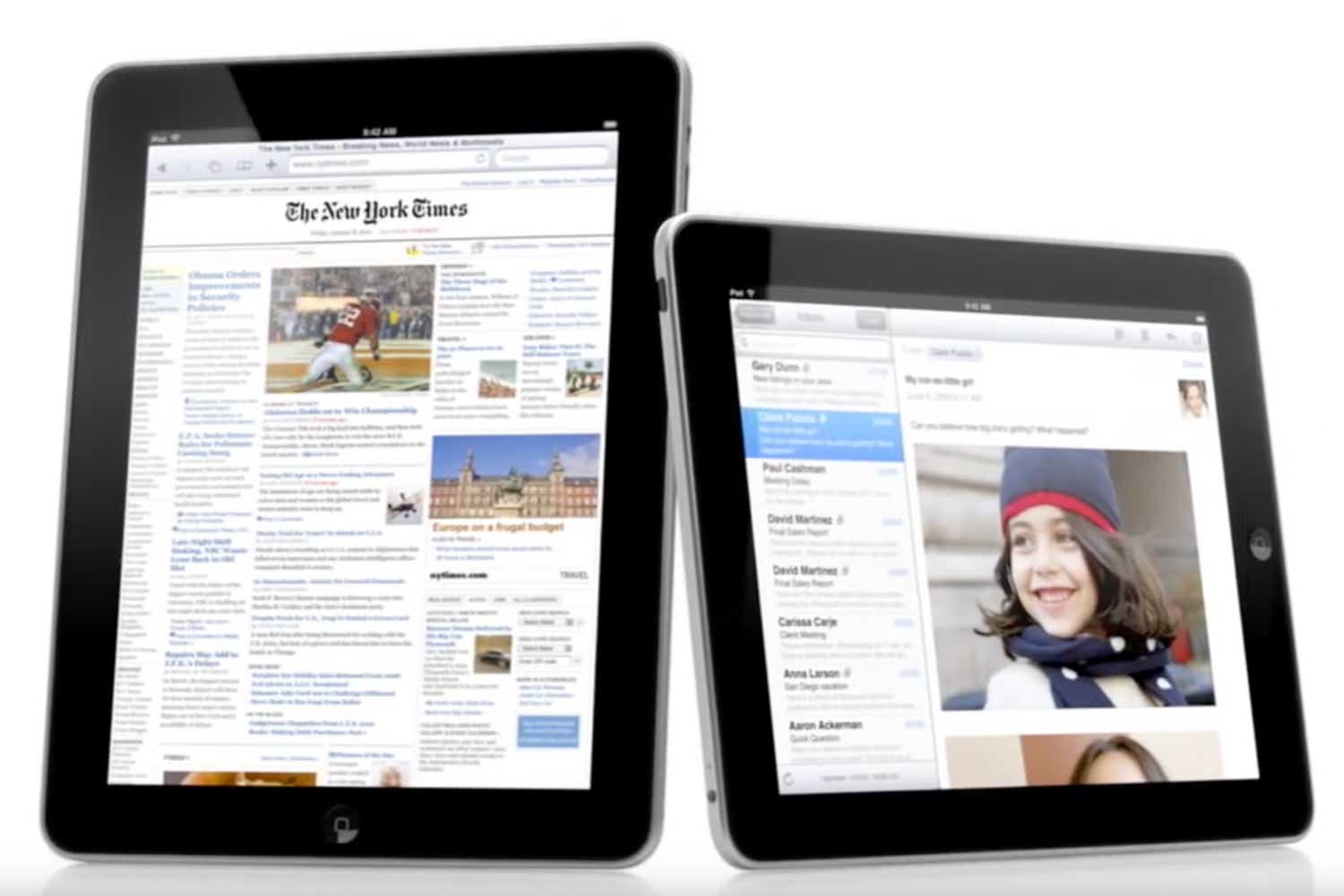 Read our full
Review iPad (2010)