The National Audubon Society's iPhone Audubon Guides offer access to four major reference tools—Birds, Trees, Wildflowers, and Mammals—as well as several smaller, regionally-based guides to birds and flowers. All of these guides are based on the AudubonGuides.com Website and the user interface is exactly the same for each app. Data in the apps is the same as what's offered for free on the Web.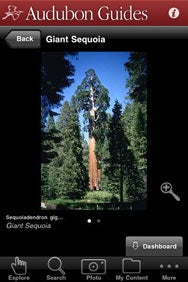 Each app's home screen displays several buttons from which you can access each of the guide's many features, including life lists, recent sightings, and the field guide itself. There are also several buttons that are nothing more than ads for all the other Audubon Guides. More recent versions of these apps have done a better job of helping you differentiate between the ads and the application's features, but it's still not as clear as it should be. (Note: The Trees guide—still at version 1.0, as of this writing—sports the original, completely undifferentiated interface.) Also, after having used these apps for an extended period of time, it's clear that the Home screen is really an unnecessary layer between the field guides and the user.
Once you get past the initial home screen foolishness, each of the Audubon apps offers a rich collection of images and information, including field photos of plants, animals, and drawings of animal tracks. Audubon Birds also adds an extensive set of audio bird calls. Each of these make it easy for you to put a name to what you've discovered in nature.
Three buttons help you quickly find what you've seen in the field: Quick Guide, Browse by Family, and Browse by Common Name. Each helps you to filter your search into an easier to manage sub-category, which ultimately takes you to a screen with thumbnail photos and the name of the animal or plant you're looking for. Each apps also offers advanced search tools, allowing you to enter your zip code and then make selections from several app-specific lists such as shape, size, habitat, color, or leaf or petal type.
Once you find the animal or plant you're looking for, you can add it to a personalized life list or insert your own notes and photos. (I would recommend using that camera to snap photos of birds, wildflowers, and trees—that grizzly you come across in the wild may not appreciate posing for your photo.) These apps also offer you the option of using your iPhone's built-in GPS to pinpoint your location. Any personalization you do can also be linked and synced with your free account on Audubon's Website so that you have access to all of your information whether you're using your iPhone or iPod touch in the field or your desktop at home.
All of the Audubon apps offer you extensive and detailed information about the birds, trees, plants, and mammals that you love; they also make that information easy to access and sync with your Audubon Web account. While developer Green Mountain Digital would do well to eliminate these apps' nearly useless Home screens, it has done a great job of bringing the power and depth of Audubon's field guides into an iPhone-sized format. Note that there's also a $40 version of Audubon Guides that combines the Birds, Mammals, Wildflowers, and Trees offerings into a single app, as well as a free sampler to give you a taste of the four guides.
[Jeffery Battersby is an IT Consultant, (very) smalltime actor, and regular contributor to Macworld. He writes about Macs and more at his blog.]