At one point in the very near past, if you wanted to track your speed and distance over a bike ride or run, calculate your calories burned, listen to music, share exercise data with friends, and view your route afterward, you'd need a cyclometer, a calculator, an iPod, an e-mail program, and, of course, a map. Today, however, all of these functions have been rolled into one device, the iPhone, thanks to great fitness tracking applications like Runmeter and Cyclemeter from Abvio.
Both apps offer advanced fitness tracking for the casual to intermediate runner or cyclist and for most intents and purposes, these are two versions of the same application. (That also goes for a third app offered by Abvio, Walkmeter, which is marketed toward walkers.) They sport largely the same interface, and both allow you to categorize workouts as either activity (as well as walking, hiking, skiing, swimming, or skating). Both will track your speed and distance, time traveled, elevation gained or lost, display your route on a map, count your calories, and share routes with others.
The main screen on both Runmeter and Cyclemeter features a large stopwatch view. It displays workout time, distance, speed, average speed, fastest speed, and (if you're repeating a route) distance remaining. There is also an indicator that shows GPS reception. The text is large enough that it's easily viewed at a glance while running, and cyclers who keep their iPhone on a handlebar mount should be easily able to view it in that setting as well. I also liked the start/stop/pause button, which was large enough to hit easily while on the move without hogging screen real-estate.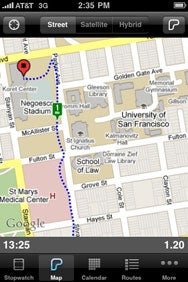 The second main screen offers a map view that shows your route overlaid on Google Maps. Not only does this help keep you from getting lost, but thanks to the satellite view and landmark metadata embedded in Google Maps, you can learn more about your surroundings while literally on the run.
The third major screen is a calendar view. It shows workouts by date, along with icons that categorize your performance with easy-to-understand metrics like "median," "better," and "best." (There are more discouraging options as well.) Although you could certainly suss this out for yourself by comparing times, it's a nice touch that lets you know where you stand at a glance without having to look at more detailed breakdowns. From the calendar view, you can also jump directly to a workout.
The final main screen is a Routes screen. It shows every route you've saved, and lets you jump to any with one click. To be frank, this screen was the least useful, and could be combined with the calendar screen, or accessed from the "More" page to save screen real estate.
However, overall, I found the apps to have a useful and intuitive interface. I was able to access settings while running (and listening to my iPhone's iPod app) without having to pause my run. Afterward, the reports the apps generated were both informative and fun to look at. Each route generates its own page with helpful breakdowns on your performance. In addition to calories burned (which, it should be noted, are estimates, as the programs do not track heart rate), it features some useful metrics like climbing and average and fastest speeds. Each report also shows a map of your run or ride, as well as a chart that displays your pace and elevation over time; it's quite handy to have these two stacked up against each other.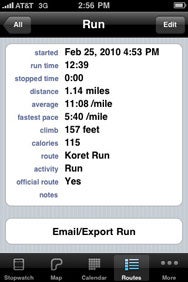 One of my favorite features was the ability to re-run or ride routes. If you stick to a regular workout routine, you likely have set routes that you train on again and again. Abvio's smart workout programs will automatically store all of your routes in a database. But better yet, it allows you to re-run each of these routes, and time yourself against your previous results, seeing in real-time if you are ahead or behind.
Sharing routes is easy as well. You can export Google Earth KML files, Google Maps links, and even GPX files via e-mail. The programs are also integrated with Twitter, so you can tweet your progress on the go or afterward with a link to the workout. Yet, while many apps will let you tweet your workout stats to your followers (an annoying feature if ever there was one), Runmeter and Cyclemeter take things quite a bit further. The apps also sport a basic Twitter client and will even listen to your Twitter timeline for incoming replies, and, using text-to-speech, read them to you mid-workout. This was more of a gee-whiz kind of add-on than a truly useful function. However, I could see how it might be nice for receiving feedback during a race.
Unfortunately, the major drawback is that Runmeter and Cyclemeter are still limited by the iPhone's GPS, which tends to have lousy reception—all the more so when shoved in a case or a pocket. One testing run on an overcast day clocked 6.5 miles on two Garmin GPS devices (as well as a map of Los Angeles), but only came in at .1 mile on Runmeter. For this reason, the apps do allow you to manually edit all aspects of a route. You can change any and every one of the inputs the apps track in their reports. However, if you're going to be doing this manually, there is little reason to carry an iPhone.
Overall, though, Runmeter and Cyclemeter are among the best fitness apps I've used on the iPhone, thanks to their ease of use, excellent post-workout reporting features, innovative sharing functions, and pleasing interface.
[Mathew Honan is a San Francisco-based freelance writer and a contributing editor at Wired.]