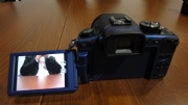 Panasonic announced two new additions to its interchangeable-lens Micro Four Thirds camera stable today. The announcement itself is no surprise–in fact, we'd been expecting new Micro Four Thirds cameras from Panasonic at CES or PMA earlier this year–but the details of the new cameras offered an unexpected twist.
Instead of adding a larger sensor, changing the form factor, adding body-based stabilization, or making the body itself smaller, Panasonic added a touchscreen interface to one of its two new cameras. Both new Lumix cameras are entry-level-side additions to the Micro Four Thirds line, and they both offer built-in pop-up flashes.
Panasonic Lumix G2 gets a touchscreen
The Panasonic Lumix G2 is the touchscreen Micro Four Thirds camera, offering the same DSLR-like form factor and articulating LCD screen as last year's Lumix DMC-GH1. On the inside, however, the camera is more like the relatively compact Lumix DMC-GF1, offering the same 12-megapixel Live MOS sensor and the ability to record 720p high-definition video in both AVCHD Lite and MPEG-4 formats.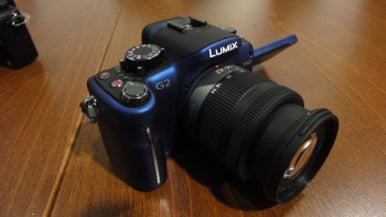 During a product preview at PMA in Anaheim, the G2's touch interface was presented as the marquee feature.
The 3-inch swiveling touchscreen can be used to perform complex tasks such as slowly transitioning the focus between two points while shooting video or selecting an on-screen object for motion-tracking autofocus. Touch-to-focus, an on-screen touch shutter button, and touch-controlled playback are also among the UI's bag of tricks. All those features can also be controlled via physical buttons on the camera.
In addition to the touchscreen interface, key changes include a new dual-CPU Venus Engine HD II image processor, an Intelligent Resolution feature that Panasonic says brings out finer detail and contrast in stills and video, a new 14-42mm/F3.5-5.6 stabilized kit lens, a dedicated record button for shooting video, and an Intelligent Auto mode button on the top of the camera that quickly toggles between auto mode and saved manual settings. Aperture settings (but not shutter settings) can be adjusted while filming video, as well.
The Lumix DMC-G2 will replace Panasonic's first Micro Four Thirds system camera, the Lumix DMC-G1, and will be available in blue, red, and black. Although pricing and availability haven't been finalized, Panasonic said the camera is expected to cost around $800 as a kit and will ship in May or June.
The entry-level Panasonic Lumix G10
The other new announcement is the Panasonic Lumix DMC-G10, which is the company's new entry-level Micro Four Thirds system camera. It lacks the touchscreen and articulating LCD of the G2, as well as the dedicated video-record button and AVCHD Lite movie recording (the G10 records 720p high-definition video as MPEG-4 files only).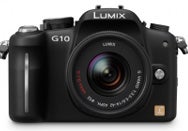 Like the G2, the G10 offers the 12-megapixel Live MOS sensor, the new Venus Engine HD II image processor, a dedicated Intelligent Auto button, and an optically stabilized 14-42mm/F3.5-5.6 kit lens.
Panasonic says the new lens included with both cameras is a bit lighter and easier to control for novice users; the optical image stabilization control has been removed from the side of the lens, and the stabilization function can be turned on or off using the in-camera menu.
The Lumix DMC-G10 will be available in black. Although pricing and availability isn't official, it's expected to cost around $600 as a kit and ship this summer.
Note: When you purchase something after clicking links in our articles, we may earn a small commission. Read our affiliate link policy for more details.