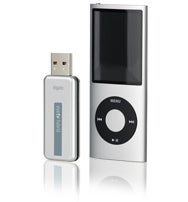 Over the last few years, TV tuners have made it increasingly easy to watch and record television on your computer. Devices like Elgato's EyeTV Hybrid allow you to plug in a coaxial cable or antenna, and voilà—all your favorite programs are just a click away. Elgato's most recent revision comes in a smaller package, and PC users can get in on the fun as well.
On Tuesday, Elgato announced the next generation of its EyeTV Hybrid, shrinking the device's already diminutive size and adding support for Windows 7 users. With it, users can turn their Macs or PCs into TiVo-like devices; they can watch, record, rewind, and pause live TV, fed through cable (basic analog cable TV and unencrypted digital—Clear QAM—cable) or over-the-air signals (SD and HD) using an antenna. It also includes an FM radio tuner.
The EyeTV Hybrid comes with Elgato's EyeTV 3 software for the Mac, which provides timed recording for shows, iTunes export for syncing recordings with your iPod, iPhone, or Apple TV, and a year of free TV Guide information (renewal after that is $20). EyeTV's Smart Series Guide functionality requires the TV Guide subscription. PC users are currently limited to using the device with Windows Media Center.
The new version is currently only available for users in North America and is priced at $150, the same cost as the previous generation. Contents include the USB-powered EyeTV Hybrid tuner, the EyeTV 3 software for the Mac, a driver for Windows 7 Media Center, a video input cable for capturing SD video from RCA or S-Video sources (like a VCR), and a remote control. The EyeTV Hybrid requires an Intel-based Mac, and a Core Duo or better processor for HD video.