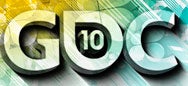 You could be forgiven if you thought that last year's Game Developers Conference—the annual gathering of gaming movers and shakers—had been redubbed "the iPhone Developers Conference." After all, the 2009 edition of the trade show featured a heavy presence from iPhone game makers as well as a push by major game developers like Konami and Capcom into the iPhone market. And the iPhone Game Summit series of lectures and events highlighted a growing interest in the platform. Truly, the iPhone was the belle of last year's gaming ball.
This year? Not so much. Oh, the iPhone still figures to be a prominent topic of interest at the 2010 GDC, which kicks off Tuesday in San Francisco. But it will be competing for attention from developers with both the Mac and Apple's forthcoming iPad.
Indeed, as GDC gets underway, the biggest news seems to be coming from the Mac gaming sector—particularly that Valve would bring its Steam game store to the Mac. The game developer confirmed on Monday that its gaming engine, and a number of its most popular offerings—Left 4 Dead 2, Team Fortress 2, Counter-Strike, and Portal to name a few—will be available on the Mac in April. Future releases will be simultaneous to Mac and Windows, the first of which is Portal 2, which debuts later this year.
Portal 2 is a hotly anticipated sequel to Valve's quirky and award-winning puzzler, and its arrival on the Mac signifies that Valve is taking this platform seriously. Suddenly, it's become very, very good to be a Mac gamer.
As David Chartier pointed out earlier in this space, it's a good time for Valve to jump into Mac gaming. Mac users represent an untapped sector of the population; it's likely that Valve wants to stake its claim on those users. Even a small fraction of games available on Steam would be a mean huge boon to the Mac gaming market. The availability of Steam also means that Valve and other developers are that much closer to doing simultaneous launches of new titles.
That's not to say Valve's announcement will launch a renaissance for Mac gaming. As Valve co-founder Gabe Newell infamously said in 2007, developing for the Mac has been difficult due to Apple being "hot and cold" to gaming, "Apple doesn't take games seriously" has been the conventional wisdom among developers and games alike. But Valve's arrival is a huge step forward.
The way I see it, if the Mac can get Steam's back catalog of games available to download and there suddenly is interest from developers in launching titles on the Mac, then Mac gaming will officially have arrived. We may still be worlds away from playing Modern Warfare 2 against our PC brethren, but for now let's rejoice that we'll soon enjoy Team Fortress 2, Portal, Left 4 Dead, and the rest.
Valve isn't the only company making waves with Apple's assorted platforms. Disney, Capcom, and Bigpoint are all set to offer previews or announcements for upcoming games on the iPhone. These include Disney's tie-in with the recently released Alice in Wonderland and Capcom's flagship Street Fighter fighting franchise and its anticipated launch for the iPhone. Bigpoint, meanwhile, is garnering buzz for its planned demo of "Uniter," the company's cross-platform technology that will allow iPhone and online players to finally compete against each other in a variety of games.
Elsewhere, Gameloft, Ngmoco, and other big-name iPhone developers are readying their latest line of iPhone games GDC's iPhone Games Summit is back in action this year, and we'll report on the speakers and sessions as they happen. The iPhone is still very much the talk of the town.
But the iPad is the X Factor. While very few developers have actually gotten their hands on the device, many say they're developing for the platform. As we get closer to the iPad's April 3 launch, expect more details on who expects to play a role in the emerging iPad gaming market and what that market will look like. Will developers focus on casual titles like the puzzlers that first launched with the App Store's 2008 debut? Or will games that take advantage of the iPad's graphical capabilities dominate the discussion? What kind of gaming platform will the iPad become?
As always, GDC figures to be full of surprises. OnLive's announcement last year of its online gaming service stole the 2009 show (though the platform remains in development a year later). Who will grab the headlines and who will deliver the goods in 2010? What demo will wow the audience?
We'll provide on-the-floor coverage and updates on announcements as we hear them. Already, it looks to be an exciting event for Mac, iPhone, iPod touch, and iPad gamers.
Note: When you purchase something after clicking links in our articles, we may earn a small commission. Read our affiliate link policy for more details.