Inspired by the recently released film from Disney and director Tim Burton, Alice in Wonderland is a remarkably clever 2-D adventure game that is more than a mere movie tie-in.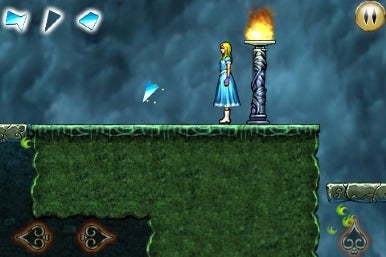 You are Alice—an older, more mature girl who has no memory of her last visit to Wonderland, ten years prior—and now you must escape the warped Wonderland you find yourself trapped in. In order to do this without losing your head to the Red Queen's soldiers, you'll need the help of your old friends: the White Rabbit, the Cheshire Cat, the March Hare, and the Mad Hatter. Each character has a special power that you must use to solve puzzles and escape Wonderland.
The controls are fairly simple—there are two arrows with which to move right and left, and one arrow with which to jump. Tap on Alice and you'll pull up a menu of the four special characters—tap on one of the characters to change from Alice into that character (tap on that character again to change back to Alice). Only Alice can move, so make sure you know where potential threats lie before you change into a special character. The arrows—which are cleverly-designed to look like spades—are responsive and effective, though jumping can sometimes be a bit tricky (Alice cannot jump straight up, only left or right).
Each special character has a power: the White Rabbit can stop time, the Cheshire Cat can make things disappear, the March Hare can move objects, and the Mad Hatter can transform objects from one world to another. If you see an object designated with colors and symbols, the corresponding character will be able to manipulate that object.
There are two worlds in Wonderland—Wonderland, and the mirror version of Wonderland. You can travel between worlds using full-length mirrors—though some mirrors are broken and must be repaired before you can travel through them. The other side of the mirror holds different obstacles and dangers, and sometimes traveling through the mirror is the only way to avoid death.
There are many interesting puzzles to be found in Alice in Wonderland. The game makes good use of the accelerometer, as you must sometimes turn the iPhone in order to change the world of Wonderland. Other puzzles include manipulating objects so they will suit you, deciphering the cryptic riddles, and working with (or against) the wind.
As you travel through Wonderland, you'll find bonus objects, which will give you a clue as to your past adventure in Wonderland, and you'll also unlock wallpapers and other movie-related items.
This game is absolutely breathtaking—the graphics are superb, the puzzles are clever, and the music is both haunting and captivating. Disney clearly put a great deal of effort into this title, and the polish is obvious. Aside from the tiniest issue with the controls being just slightly clumsy, I can't think of a reason not to recommend this game to anyone and everyone. The puzzles are just challenging enough that you won't always solve them on the first go, but not so tough that you'll be scratching your head for days. At $4.99, this game is a steal.
[Sarah Jacobsson encourages you to peer through the looking glass one more time.]