At a Glance
Expert's Rating
Pros
Responsive touchscreen
Solid, slider design.
Cons
Disappointing camera.
Runs Android OS 1.6
Our Verdict
At first glance, the Devour (Motorola's second Android phone on Verizon) looks a lot like the Droid ( ). But after spending some time with the Devour, I realized that it couldn't be more different from its older sibling. There's a lot to like about the Devour, especially its social networking features, intuitive user interface, and sturdy design, but it also has some shortcomings.
My initial impressions of the Devour's design and look weren't exactly positive. The Devour is a bit clunky, and its aluminum body is retro in a somewhat unappealing way. The 3.1-inch display seemed way too small for its 4.4-inch-long body and is much smaller than the Droid's 3.7-inch display. In fact, the Devour is slightly bigger than the Droid, but weighs a tad less at 5.9 ounces (the Droid weighs 6 ounces).
After some hands-on use though, the Devour began to win me over. Yes, this thing is a brick, but it feels quite solid in the hand and has some unique design elements. For example, rather than a back battery plate, the Devour's battery and microSD slot can be accessed by removing the rubber siding on the phone's left spine. To remove the battery, you just tip the phone, and it slides out. The Devour also has black rubber panels on the top and bottom, keeping the phone from feeling slippery.
I found the layout of the Devour's touch controls a bit awkward, however. There's a sizeable gap between the bottom of the display and the touch controls. Then, for whatever reason, Motorola placed the touch controls in two rows: The Menu, Home, and Back keys are on the right side of the top row, with a thumbpad/optical mouse below them on the left. Overall, it makes for a lot of unused space, which is unfortunate when you have only 3.1 inches of screen real estate to work with. On the bright side, the touch keys are quite responsive, and the optical mouse is a good alternative to the touchscreen.
I do applaud Motorola's keyboard design for the Devour; it is far better than the Droid's. While the Droid's keyboard is spacious enough, I found it shallow and a bit uncomfortable to use. The Devour's recessed keyboard is easier to steady, making typing more comfortable. The keys are also large, and nicely raised and spaced out. The sliding mechanism is crisp and springy, yet solid.
While I felt a bit shortchanged by the size of Devour's capacitive display, I was impressed with its responsiveness and brightness. At 320-by-480-pixels, its resolution isn't as good as the Droid's (which is an 854-by-480-pixel stunner), but colors appeared vivid, and I was pleased with its responsiveness.
MotoBlur for social networking
Perhaps the biggest difference between the Droid and the Devour is in the software. The Droid runs Android 2.0 with Android's vanilla user interface out of the box. The Devour, on the other hand, runs Motorola's social networking interface for Android called MotoBlur. This is Motorola's second MotoBlur device, following the Motorola Cliq ( ) on T-Mobile. Motorola has two more MotoBlur devices coming to the United States later this year, the Cliq XT (the carrier will be T-Mobile) and the Blackflip (carrier not yet announced). The Devour (along with other MotoBlur devices) runs Android 1.6, but Motorola says it plans on eventually upgrading the phones to version 2.1. In my review of the Motorola Cliq I covered MotoBlur extensively, so here I'll only briefly touch on some of MotoBlur's most important features.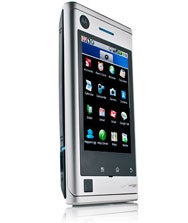 When you start up the Devour for the first time, you have to register for a MotoBlur account. This establishes a registration record of your phone on the MotoBlur servers so you can receive updated information without interruption. You then choose which social network accounts (such as such as Facebook, Last.fm, MySpace, and Twitter) you want to associate on your Devour.
MotoBlur also collects and organizes all of the contacts from your various social networks. If you're friends with the same people on multiple networks, MotoBlur condenses all of their information into a single listing to avoid duplicating data on your phone. You can then see each of your contacts' current information—birthday, status update, current profile picture, e-mail address, phone number, and the like. You can view your communication history with a particular contact as well as viewing that person's activity on different social networks.
Aesthetically, I find MotoBlur a bit overwhelming: Text, talk bubbles, and images fly out at you in every direction. And the text and icons lack the pop of iPhone OS or even Palm's WebOS. Fortunately, you have five homescreens to fill with the widgets and applications of your choice, which helps reduce the clutter. In addition to the standard Android widgets (Music, Clock, Calendar, and Search, to name a few), you'll see four MotoBlur widgets: Messages, Status, Happenings, and Weather.
My favorite element of MotoBlur is its ability to track your lost or stolen phone via GPS and remotely wipe it. And since all of your data is stored in the cloud, you won't have to reload everything into your new (MotoBlur) phone.
In addition to the MotoBlur features, you also have access to all of the useful Google applications like Gmail, Google Maps with Navigation, YouTube, Google Search, and so on. You can also set up and sync your Yahoo account with the device and get full Outlook sync support as well.
Good multimedia features; lackluster camera
The Devour has the standard Android music player with support for playlist building, as well as shuffle and repeat modes. Transferring music on to the Devour is a snap with the included USB cable. Audio sounded clean through the provided earbuds, but even better through my higher-quality set. Music piped through the external speakers was a bit weak, however. Video playback was smooth, especially through the included Verizon V Cast video application.
Unfortunately, I can't give the same praise for the Devour's 3-megapixel camera. I'm not sure why Motorola went with only 3 megapixels, as both the Cliq and the Droid have 5-megapixel cameras, and such 5-megapixel cameras also seem to be the norm for higher-end smartphones these days. Overall, I was disappointed with the way my snapshots turned out. Colors appeared washed out, while details looked fuzzy. The Devour's camera doesn't have many editing features, either. You can geotag as well as apply a color effect to your photos, but I wish it had more capabilities, especially when the camera quality is merely adequate.
Solid network performance
Call quality over Verizon's 3G network was excellent. My contacts sounded loud and clear with no distortion or background static or hiss. Callers on the other end of the line noted that my voice sounded natural, and they couldn't hear very much background noise. I experienced no dropped calls or dead zones during my use, either.
Surfing the Web on the Android browser was a pleasurable experience as well. Pages loaded quickly over Verizon's 3G EvDO connection. I had no issues browsing media-rich pages, either. Of course, the Devour doesn't support full Flash (though Flash Player 10 will be available for Android later this year), so you can only view Flash Lite content.
The Devour isn't a bad phone by any means, but it is hard to see where it fits into the Android universe. On the one hand, the full QWERTY keyboard and MotoBlur's social networking features make it appealing for teens. But, in my opinion, its industrial look seems to be targeted more at older audiences, and it isn't that much cheaper than the Droid (which is $200 with a two-year contract). Until the Devour gets upgraded to Android 2.1 (and perhaps gets a price drop), I'd recommend the Droid over the Devour.
[Ginny Mies is an assistant editor for PCWorld.]