I'm not a gifted photographer in any sense of the word. I just replaced an ancient 1.2-megapixel Fuji camera with a nice, shiny red Kodak Easyshare. Besides being easy for mere mortals to use, one of the features I really like about my new camera is its ability to combine multiple photos into a panorama. And that attracted me to Cloudburst Research's $2 AutoStitch Panorama app.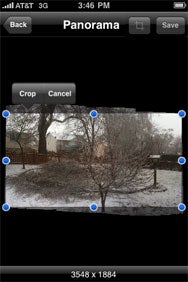 AutoStitch lets you create panorama photos very quickly in three easy steps. Step 1: Snap several photos on your iPhone. The developer suggests letting them overlap by about 30 percent for best results. Step 2: Launch AutoStitch, browse to your camera roll (or any other set of photos on your phone), and then tap on each photo in order to move it into a holding area at the bottom of the screen. Step 3: Tap on Stitch. The app thinks for a few seconds and then returns a (usually) perfect panorama shot. You can crop the photo, if needed, and save it to your camera roll where you can then sync it with your computer.
Keeping things simple for those of us who don't know an f-stop from a doorstop, AutoStitch provides just three settings: input resolution, output resolution and maximum output file size. You should experiment with these settings, but I found the defaults to work just fine for most photos. A useful Hints screen explains the settings and provides some other handy tips.
Of course, a talented photographer using professional equipment could produce more impressive panoramas, but I'm a firm believer in Chase Jarvis' opinion that the best camera is the one that's with you. For me, that's usually my iPhone 3GS. I've found that the addition of AutoStitch makes the best camera even better.
[Brian Beam is a web developer and partner with BOLD Internet Solutions, living somewhere near Kansas City.]
Note: When you purchase something after clicking links in our articles, we may earn a small commission. Read our affiliate link policy for more details.