The MMS-helper app txtagif is free, cute, and fun. And, as a free app, it's priced perfectly for what it does.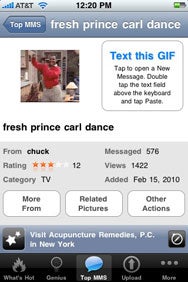 The app from XVision sports more than 2,000 animated GIF-format images that you can easily paste into MMS messages. And that's it. Txtagif has every kind of animated image you can think of: smileys, clips from TV shows and movies, cartoony doodles, video game snippets, amateur video loops, and more of that ilk.
When you find an animation you like, you tap the Text This GIF button, which quits txtagif and launches Messages, with your chosen image copied to the iPhone's clipboard. Double-tap the text-entry field and choose Paste, and your image is ready to send.
With all those thousands of images—and new ones uploaded each day—the app can be a bit daunting to browse. The app's customizable tab bar can offer quick access to the highest-rated images, the most-sent ones, or even "Genius" recommendations based on your txtagif history.
A few weaknesses mar the overall experience a bit. I'm never a fan when apps need to quit to perform their key utility, and txtagif falls into that bucket. Separately, rating images takes way too many taps: The Other Actions button, then the Rate button, than the rating itself, and then Send to submit. Finally, I also found that many folks I texted couldn't see the animation—they got stuck with merely the first frame. That's not txtagif's fault, but it certainly limits its functionality.
If you like to MMS, and you specifically like to send cutesy images, and you more specifically have friends who like to receive those messages, txtagif will be an iPhone app dream come true.
[ Lex Friedman is a frequent contributor to Macworld.]
Due to a server error, this review did not appear when the headline originally went live on the site. The error has been corrected.