The original Shazam was a revelation when the music-identification app first arrived for the iPhone and iPod touch. With Shazam Encore, Shazam Entertainment hopes to take things to the next level—this time for a fee.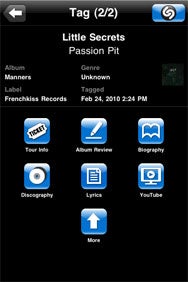 The $5 Encore works much like its free predecessor—when you hear an unidentified song, hold up your iPhone (or your iPod touch if you've got an external microphone) toward the sound, and prepare to be amazed. The app listens to the song and then checks with the Shazam database, returning the name of the song and the artist more often than not.
The paid version features a handful of nifty, new things you can do with Shazam—chiefly unlimited song tagging. The free version of Shazam limits you to five tags a month.
Before you've even Shazam'd, you can check out the Shazam chart, with the most popular songs on the service, or read the blog for tidbits of musical news. Once you've searched a song and gotten its basic info—as well as a link to the iTunes Store and a sharing option—Encore also lets you look up tour dates and gives you recommendations for similar artists. The app even records where you were when you first tagged the song, and you can take a snapshot with your iPhone to "capture the moment."
Of course, not all of these features are available for all songs. Availability seems to hinge on the popularity of the song and artist you're looking up. For example, when I put Shazam Encore through its paces a bit, the app pulled up all of the information on Lady Antebellum, a newly chart-dominating country group. But of course, that group is featured on Shazam's top 10 most tagged songs. When I played "Home" by Edward Sharpe and the Magnetic Zeros—a song with pretty much zero radio play, but a feature on an episode of Gossip Girl—the app came up with tour dates, an artist discography, and an associated YouTube video. No dice at all, though, for DJ Tiesto's "He's a Pirate," so maybe don't pull out Shazam at the next rave you happen to attend.
So, of course, Shazam Encore is not entirely magic. The app won't interpret humming or live music and certainly not the MySpace uploads from your brother's garage band. It does, however, do a decent job of what it was intended to do: figure out what you're listening to when you're not near a computer and no one around knows either.
Personally, I first learn about music on the radio, in television shows I'm watching, or when I'm out on a Saturday night with friends. Even when a radio DJ mentions the song's name, I'm often driving and not really in a position to take notes, so I usually forget before I get a chance to commit a song to memory. Shazam Encore solves this problem handily.
What's a little troubling about the app is the $5 price tag, compared to the free original. (The five-tag limit in the free Shazam was introduced last November with the arrival of Shazam Encore; users lucky enough to have downloaded Shazam for free before then still enjoy unlimited tagging.) I'm not sure that the new features in Encore warrant a $5 mark-up. Encore's best feature is that it saves you the trouble of searching for tour info on the Safari app or waiting until you're at a computer, but I'm not sure that I've ever loved a new song so much that I immediately needed to buy tickets to the artist's concert. If you don't need unlimited tagging, in fact, it might be a better idea to make do with the free version and save yourself the $5.
Still, newcomers to Shazam may appreciate the unlimited tagging capabilities in Encore. And if you've got the Last.fm or Pandora apps on your iPhone, you can now launch a station from your search results in Encore with the latest version of the app—a nice value-add for those users.
[Meghann Myers is Macworld's editorial intern.]