Gameloft continues to develop high-end games for the iPhone with titles like NOVA, Avatar, and Modern Combat: Sandstorm. Now, with the release of Brothers In Arms 2: Global Front, they add to their impressive library of graphically impressive titles. The compelling cast of characters, gritty action, and intense combat of this World War II combat simulator recall "Saving Private Ryan" rather than something you'd typically find on your mobile platform. The camera shakes as bullets whiz by, enemy planes roar overhead and explosions erupt all around you as debris flys everywhere. You'll be taking cover, firing around corners, capturing beaches, and taking on the Axis Powers for hours in this immersive shooter.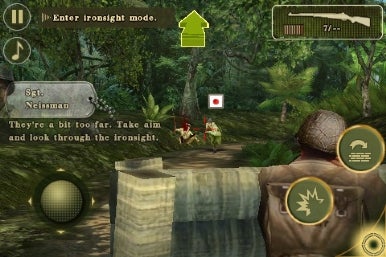 Uncle Sam decided to strip your late brother of his Medal of Honor and you set out to learn more about his death and possibly clear his name. I normally don't really care too much for storylines but I found myself enjoying the sense of purpose it gave to the game and overall experience. There are 13 stages across 5 different locations including theaters in the Pacific, Normandy, North Africa, Germany and Sicily. From thick jungles to exposed beaches, each location is inspired by real-world battle scenes of WWII.
Gameloft has also spent a great deal of time on developing the multiplayer features. You can play up to four of your friends over WiFi or bluetooth, or join an online game to compete in death matches on one of five different maps. Playing online via Gameloft Live is a real breeze—the maps are well-designed and connecting to a game is quick and easy.
Brothers In Arms 2 has a cool cover and fire system. When approching a log, box or other object, a button appears that will allow you to take cover. When you come close to the end of a wall or a tank you can put your back up to it and peek around the corner to shoot at your enemies. Getting to good cover through a hail of bullets requires some fancy footwork but luckily you can sprint with the tap of a button. Brothers In Arms 2 has an aim assist feature that helps the cross-hairs stick to the enemy while you're moving around. Even though it has a open world feel to it, game progression is very linear with directional indicators prodding you in the right direction the whole way. Your arsenal is pretty impressive as well: you've got machine guns, sniper rifles, bazookas and even flame throwers at your disposal. There are also turrets to operate as well as jeeps, tanks and even a glider to take control of.
Visually, Brothers in Arms 2 raises the bar for gaming on the iPhone with great graphics and animations. All the locations are beautifully rendered with rays of light streaming down from the treetops and detailed textures everywhere. The game also has subtle details that really impress—the sounds and animations of explosions in particular are nice details. For instance, when a grenade blows up dirt and debris fly into the air and come raining down everywhere. You really get a sense of the urgency and chaos that embodied the battlefields of WWII. On my 3GS, frame rates were consistent and I didn't notice any slowdown or lag.
The control scheme reflects the lessons Gameloft learned while making its other shooter games. There's a virtual joy-stick for movement, a jump and fire button as well as some contextual buttons that pop up for taking cover or entering vehicles. To look around and aim you just drag a finger on screen. The sensitivity can be adjusted and there are a few optional layouts for the controls but the default set up works really well.
Gameloft has done an exceptional job with the second Brothers In Arms release and continues to push gaming on the iDevices to new levels. If you're a fan of combat games you'll really enjoy this gem.
[Tim Mercer is a technology enthusiast, graphic designer, and blogger, whose blog, digital-artist-toolbox.com, offers free resources to the digital artist and graphic designer.]