TeamViewer already offers a remote control and desktop sharing program for desktops. Now the software maker wants to go mobile, with a similar offering for iPhone and iPod touch users that lets them access and control remote computers from their handheld mobile device.
Aimed at IT support staff, TeamViewer Pro can access either Macs or PCs. The app provides complete access to unattended computers at home or in the office, including remote reboot capabilities. What's more, you can use multi-touch gestures to control those remote machines from the phone.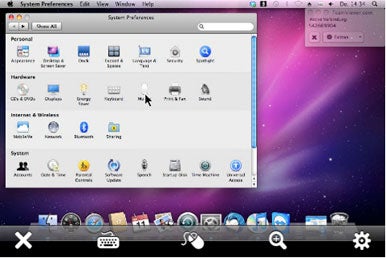 TeamViewer Pro users can create a partner list that contains all the connection information for any computers and servers they wish to control remotely; that makes it easy to connect through the app with a single tap.
TeamViewer Pro promises trouble-free use behind firewalls and proxy-servers. The app is encrypted with AES 256-bit encoding.
Those features may sound interesting to individual users, though TeamViewer Pro's $100 price tag may not. Don't fear—there's also a free version of TeamViewer intended for personal use. (TeamViewer defines that as using the app to access your own computer or helping family and friends remotely with their PCs.) The free TeamViewer offers the exact same feature set as the paid version of the app.
To use either the free or paid versions of the app, you'll need the desktop version of TeamViewer. Business licenses for that application start at $749, though, like its iPhone counterpart, the desktop version is free for non-commercial use.