Students of the hadouken have a new venue to test their fighting mettle: Street Fighter IV launched Wednesday for the iPhone and iPod touch. This seminal arcade fighter brings high-end graphics, complex combos, and a memorable cast of characters to the mobile platform.
With a price of $10, everything about this iPhone game is high-end. I sat down with Takeshi Tezuka, general manager of mobile content development at Capcom to talk about what it took to bring this title to the iPhone.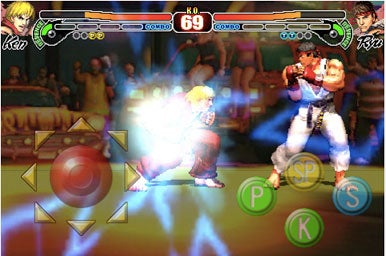 Tezuka has been involved with Street Fighter projects since he was a quality assurance tester for Street Fighter II in the early '90s. He claims that he used to go to arcades in Kyoto and Osaka and watch how people played and to see if the arcade machines handled the games properly. Through a translator, he spoke enthusiastically and with a sense of nostalgia for those days, and he knows he's not the only one who remembers the iconic fighting game so fondly.
When designing Street Fighter IV for iPhone, Tezuka claims that, "the main target [audience] is people in their mid-30s… people who are used to Street Fighter II." These are gamers who grew up with Guile, Ryu, Chun-Li, and Ken. All of these fighters make an appearance in the iPhone version, as does Dhalsim, Blanka and M. Bison. Abel, a new character from Street Fighter IV, also curiously joins the cast. Street Fighter has a lot of distinct fighters with "unique moves," explains Tezuka, who believes that Abel, with his power wrestling moves, is "one of the most unique characters."
While the eight characters offer a variety of fighting styles—from tradition karate to wrestling to mixed martial arts—dedicated fans of the series are hoping that many of the dozens of characters that have appeared in Street Fighter over the years will appear in the iPhone game, but so far there haven't been any confirmed updates announced. Tezuka concedes that further updates will depend on how the game will sell, but he "personally really wants to try it out."
But it's not just old pros of the series that are expected to play and enjoy Street Fighter IV for the iPhone. Capcom wants players "new and old" to the series, enticing hopefully both casual and hardcore fans. With the iPhone, an entirely new audience of gamers can try out the iconic series for the first time. It's "not only game players, it's music fans, movie fans… we wanted to reach out to these people" with the iPhone, Tezuka said.
To accommodate these new users and acclimate them with the series, the development team decided to include a rigorous training mode called "the dojo." Instead of learning how to play, Tezuka-san said, people can learn "how to fight." He believes that new players can challenge even seasoned veterans if they practice in the dojo.
The biggest challenge for porting the game to this new platform is maintaining the delicate combat system and complex system of moves. In order to keep the game true to its source material, the controls had to be perfect. Tezuka claims that ten months alone went into the unique virtual d-pad and buttons of the iPhone version. "We wouldn't release it if it wasn't true to the game," he added
In lieu of Valve's announcement this week that Steam is coming to the Mac platform, I also asked Tezuka if he has any plans of porting Street Fighter IV for the Mac. He chuckled and he admitted that he did not, but conceded he was a Mac user.
Street Fighter IV is available from the App Store for any iPhone or iPod touch running the iPhone 3.0 OS.