Having already revolutionized the music industry, it seems strange that Apple would want to summon up a reminder of a bygone era. Still, that didn't stop the company from unveiling the iTunes LP format last fall. It combined the digital music that consumers love with the liner notes, album art, and other materials that music fans loved—in the 1970s. And yet, a mere six months after its debut, the iTunes LP seems to have faded into nothing more than a static hiss.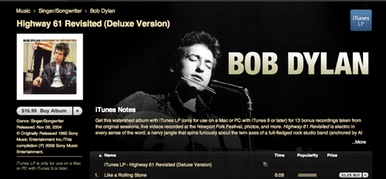 GigaOm's Paul Bonanos has dug deep into the mystery of the iTunes LP and found that there are only about 30 iTunes LPs in the iTunes Store at present, up from around 12 at the format's launch. That's an average of about three released per month—not exactly barn-burning numbers.
While iTunes LPs contain more material than a standard digital album, they also cost typically more: the new Gorillaz album Plastic Beach costs $13 as an iTunes LP and $10 as standard digital album, though the LP does contain extra tracks and a music video. As a value proposition, it's not bad, but I'd wager that many more opt for the standard album—if only because the iTunes LP is strange and frightening. It's not as though Apple's spent a lot of time or money on marketing the format.
Also problematic are the production costs of building an iTunes LP. While Apple has said that there's no fee for producing an iTunes LP, it still costs the record company or band money to build the content—GigaOm says Apple fronted up to $60,000 in production costs for some of the first iTunes LPs. However, Apple did open up development of iTunes LPs in November 2009, which may enable labels to produce them at less cost.
Moreover, word is that the sales of the LPs has not justified their cost. From a purely anecdotal standpoint, I've not run into anybody who's bought more than one iTunes LP—and most of the people I've talked to haven't bought any.
Why not? At the risk of sounding blindingly obvious, today's music market isn't what it was 35 years ago. More than anything, the rise of iTunes and the iPod has made music pervasive in our lives. For most people, listening to music is something you do while you're doing something else, not an activity that occupies your entire mind. By contrast, the iTunes LP requires the same kind of attention that you might give to a movie or a book. While that might appeal to the serious music fan, it's overkill for most consumers. (I'd guess it's roughly equivalent to the percentage of people who listen to the director's commentary on a DVD.)
Plus, for many of us, the purchase-by-track model of the iTunes Store—combined with the shuffle feature—has, for better or worse, dethroned the album from its spot as a building block of music. The music industry itself, of course, is more than a little culpable in that regard: truly good albums are harder and harder to find these days.
Might the iPad be the medium to give the iTunes LP a second wind (if indeed it even had a first)? To my mind, the inherent multitasking nature of music these days still makes it a hard sell. GigaOm also claims that the iTunes LP format was not the brainchild of Apple, but rather another flailing attempt by the music industry to retain the relevance that it once had. Frankly, that's not much of a surprise: I'm not sure there's been an industry this self-destructive since the age of the hydrogen-blimp manufacturer.