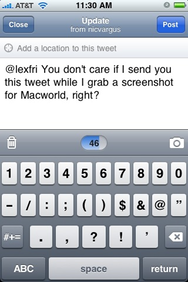 Birdfeed, the "very nice" iPhone Twitter client developed by Buzz Andersen, has been acquired by Thing Labs and rebranded as Brizzly for iPhone, in order to tie in with the company's Brizzly Web interface for Twitter and Facebook.
Brizzly for iPhone utilizes Birdfeed's foundation, including features like the helpful countdown widget (pictured) and simplistic UI, while also introducing lists, a pull-down refresh feature, and topics with editable explanations (dubbed the Brizzly Guide).
The Brizzly team at Thing Labs opted not to replace Birdfeed via an update, instead offering the new version as a completely separate app and pulling Birdfeed from the App Store.
In the announcement on Birdfeed's site, the Brizzly team wrote, "Since it is a new product rather than an upgrade, you won't be prompted to upgrade… You can keep the old Birdfeed if you'd like, of course, but we won't be supporting it, and will be iterating on Brizzly from here out."
On the Web, Brizzly is a simplistic Twitter and Facebook reader. As an app, it sticks to its Birdfeed roots, in which a simple and clean UI is the name of the game. Users will need to sign up for Brizzly on the Web before they can post from their iPhone.
Brizzly for iPhone is available from the App Store for free and requires iPhone OS 3.0 or later.