At a Glance
Expert's Rating
Pros
Excellent navigation
Complete tax preparation and filing
Thorough help, particularly through the Live Community networking features
Flags get you back to any screen you want to get to
Cons
No back button on Live Community help searches
Can't import files from H&R Block products
Tax preparation software doesn't generate much (if any) buzz, but the two major players, Intuit and H&R Block, have been battling it out for several years. Last year, a major upgrade to Intuit's TurboTax surpassed H&R Block's TaxCut in terms of features and ease of use. TurboTax builds on the advances of last year, while TaxCut has not changed much, except for a new name: H&R Block At Home. I looked at the desktop versions of the two. (We also have reviews of two tax-preparation online services: H&R Block At Home Deluxe online, and 2nd Story TaxAct Deluxe Federal Edition [ ].)
Last year, TurboTax was more expensive than H&R Block's software. This year, both companies offer a $25 Basic version for simple returns, including state returns. I looked at the Deluxe versions (both are $60), which are for people who itemize deductions or have investments.
If you are self-employed or own rental property you'll get more specific advice with the $90 Premium version of either program. H&R Block's Premium version also comes with a live tax advice session with an H&R Block tax advisor. TurboTax offers a Home & Business ($100) version, while H&R Block's Business version is Windows only. All include electronic filing with the IRS.
Importing and navigation
TurboTax and H&R Block At Home can each import financial data from Quicken files (but not QuickBooks) as well as files saved using the Tax Exchange Format (.TXF). H&R Block At Home also imports data from the now-discontinued Microsoft Money, and, if you're switching programs, last year's TurboTax file. Both can also import W-2 information if your employer makes it available from an online payroll service (you just enter an ID number, and the software auto-enters the data). Both apps will also import various types of 1099 forms, but only TurboTax can import 1099-MISC used by the self-employed or consultants.
Importing last year's tax file enables you to skip typing in personal information. But TurboTax does more with the previous year's imported data. If you had a lot of 1099s, TurboTax gives you a one-page list of the 1099s you had last year, as well as a Schedule C and Schedule E (rental income) if you had them. On the Income Summary page, TurboTax lists the various types of income and interest you reported last year, along with last year's amounts that you can compare side-by-side with this years numbers.
Although TurboTax and H&R Block At Home let you enter info directly in IRS forms, both provide an interview format to get information that may lead to a lower tax bill or bigger refund. The interviews start out asking high-level questions, such as have you gotten married or lost a job. TurboTax then builds a summary screen, listing the choices you just made and letting you choose where to go next in the software. TurboTax has lots of these summary screens (including screens for deductions and tax credits), which are useful in letting you know what you've done, and letting you get back to certain sections of the software.
H&R Block At Home has added index screens at the beginning of sections that let you jump to subsections. But it still makes you click through more screens than TurboTax. If you skip pages, you'll have to go back to the beginning of a section, where you'll need to click through screens. Most frustrating is the fact that H&R Block's Back button often does not take you the last screen you viewed, particularly if you jump to another section.
In addition to having a true Back button, TurboTax has improved last year's bookmark feature, which it now calls flags. If you want to temporarily skip a field, you can click a button to create a flag, which appears in the left column. Anytime you click a flag, it takes you back to exactly the page you flagged. You can call the flag anything you want, and type a note reminding you what you need to do. TurboTax can even add the flag to iCal. When you finally deal with the issue, one click deletes the flag.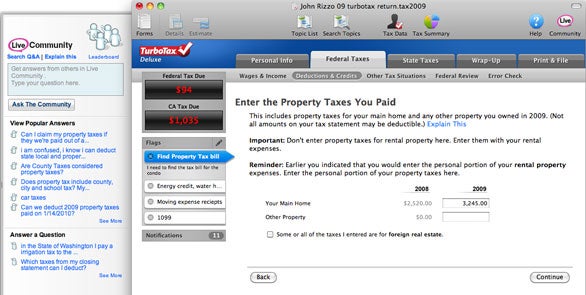 A new TurboTax feature called Notifications automatically checks your return as you go. If you make an obvious mistake or skip vital information, it creates a Notification in the left column that describes the problem. A fix button takes you to the page where the problem is. You can also create a flag from the notification with one click.
Help!
Help in tax preparation software is vital. The tax code is huge and changes every year. Here, TurboTax outshines H&R Block At Home in depth and breadth. Both products provide links to relevant help right in the interview screens, and both have sidebars that list help topics relevant to the screen you're on. Both provide the official descriptions from the IRS.
But TurboTax's Live Community feature is the best place to search for answers to questions about tax issues and about the software itself. It's a link to a database of thousands of questions that real users have asked and answered, and includes answers from Intuit. If you don't find an answer to your question (this never happened to me) you can post your own question. It will be answered either one of the other users or an Intuit employee.
My searches using the H&R Block At Home help system had problems. For one, it didn't always yield relevant results. I searched for "Unemployment benefits," but the result it returned took me to a dialog about Form 1040-ES and estimated tax payments for the self-employed.
Even worse, some searches in H&R Block At Home don't return any results. If you want to find out which cell phone expenses are deductible, a search for "phone" in the help system will bring no results. In TurboTax, a search for "cell phone" in the Search Q&A section of Live Community brought up an article citing court cases that show that deductions are very limited.
A limitation of TurboTax's Live Community search is the lack of a Back button. After read one of the search results, you have to retype the search to access other articles.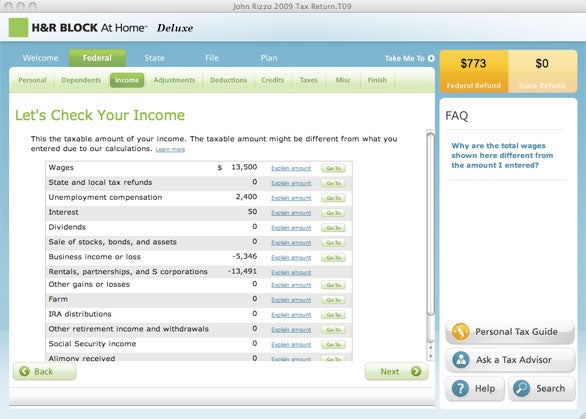 Macworld's buying advice
TurboTax is the hands down winner in this year's face-off. There are still some of the same differences between the applications are the same as last year, but TurboTax has improved. And now that the TurboTax and H&R Block At Home Deluxe cost the same, the choice is easy.
[John Rizzo is publisher of MacWindows.com and author of Mac OS X Snow Leopard Server for Dummies (Wiley Publishing, 2009).]