At a Glance
Expert's Rating
Our Verdict
Editor's note: This review is part of a comparison of online tax preparation services.
Intuit's big ad campaign for TurboTax compares this software to a GPS navigation aid (it presumably guides you through the treacherous twists and turns of tax preparation), and the online versions (there are four) seek to reinforce that metaphor with graphics that make tax-prep milestones look like billboards on a highway.
However, Intuit can be a little heavy-handed in forcing a destination on you: In my tests, it repeatedly tried to get me to upgrade to the Home & Business version after I indicated that I had income as a freelancer, when the less expensive Deluxe version had all the Schedule C (for self-employed filers) help I really needed.
TurboTax has historically been the priciest service—but also the most polished. And this year is no exception. The paid products support automated importing of data from more institutions than the other services do, which can be a real timesaver (it was, for example, the only service I tried that could import 1099s from my Fidelity Investments accounts).
TurboTax's first-rate user interface offers easy access to the service's Live Community forums, where you can often find answers to tax questions that aren't fully explored in the service itself. Navigation aids include a useful Flags bookmarking feature, which lets you easily return to a specific page you're not ready to complete. Like all of the major online filing services, TurboTax provides a refund meter that tells you how much you owe or will get back based on the current state of the return.
This year, Intuit says it has beefed up TurboTax's ability to identify audit risk situations. Also new is the option to split any refund between up to three accounts, or to use some or all of it to buy U.S. savings bonds.
The least expensive version of TurboTax costs $15 (exclusive of state filing fees); it simply guides you through a basic interview. The $30 Deluxe version targets people who have deductions to itemize, the $50 Premier version is for people who manage their own investments, and the $75 Home & Business edition is for those who derive some or all of their income from self-owned businesses. Home & Business may be overkill if your business doesn't involve inventory or additional employees, so I'd recommend starting with one of the less expensive versions and upgrading only if you decide that you need more help. (You can upgrade at any time, but it's much more difficult to downgrade.) State returns cost another $37, so the bill can easily mount up.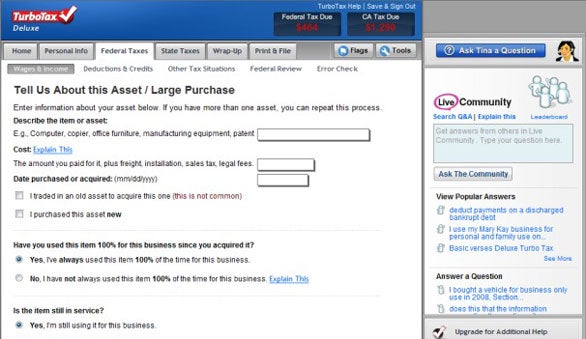 Macworld's buying advice
TurboTax is worth its price premium for anyone who can benefit from TurboTax's superior data import capability, or its superlative context-sensitive help and navigation features. If your return is fairly simple and straightforward, however, you might be just as well off with a lower-priced competitor.
[Yardena Arar is a contributing editor for PCWorld.]