At a Glance
Expert's Rating
Our Verdict
The traditional budget alternative, TaxAct, looks a lot like H&R Block At Home, with a blue background and green accents. Like the other services, it invites you to start with the free edition, but as soon as you indicate interest in more than one major life event with tax implications (unemployment, retirement, marriage, and the like), TaxAct pushes you to its paid version—which, at $10 for a federal return and $18 for a federal-state bundle (including e-filing), really is a bargain.
TaxAct's navigation is first rate. You can easily jump around to different topics and fill in data as you receive it. The life events are presented before you even begin the regular interview; after reading about the possible implications of those that apply, you can enter pertinent data immediately, or hold off and go through the usual Q&A.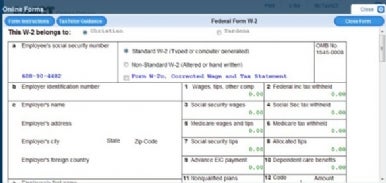 TaxAct has one nice data-import trick: The service can harvest data from last year's return if it's available as a PDF. This feature worked like a charm for me. Unfortunately, however, TaxAct offers little support for other kinds of data import. The only W2s it can import are electronic ones prepared by TALX W-2 eXpress, and it provides no support for institutional 1099s. Given that most people will have to enter this data manually, TaxAct at least gives you the option of filling in a version of the form online (which for me was easier than answering interview questions, but you can go the interview route if you wish). In general, TaxAct makes it very easy to switch between forms and the usual Q&A format that tax software follows.
Macworld's buying advice
TaxAct's tax help is adequate for many situations; I had no trouble using it for my freelance writing business and it's a terrific deal, especially if you don't stand to benefit from the data-import options available in TurboTax and H&R Block At Home, and if you aren't interested in support from a tax pro.
[Y ardena Arar is a contributing editor for PCWorld.]