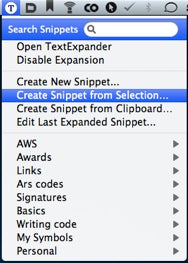 TextExpander from SmileOnMyMac is the ultimate macro tool. It lets you create snippets of frequently used text or images, then instantly paste said snippets into any app simply by typing an abbreviation. It's like a rubber stamp for working on your Mac, and it just got a lot more…stampier—but in a good way.
TextExpander 3 offers a new snippet creation window accessible via a keyboard shortcut, which can save you time while you're creating a snippet that can save you even more time. It also introduces "fill-in snippets," which are basically a 21st century version of your own customizable, powerful Mad Libs. After typing an abbreviation to expand a text snippet, users can proceed to "fill in the blanks" with custom information that doesn't fit into a template. This is great for personalizing e-mail templates on the fly or sending a customer a copy of their receipt.
A new search box lets users quickly find just the right snippet to expand or edit, and one-click sync options in TextExpander's preferences now make it a snap to sync your snippets between Macs via your choice of MobileMe or Dropbox. Of course, the new version also syncs with TextExpander touch for iPhone and iPod touch.
TextExpander 3 also marks the demise of its previous existence as a System Preferences pane; it's now a stand-alone application (requiring Mac OS X 10.6 Snow Leopard) that can hide its Dock icon and live entirely in the menubar. A 30-day demo is available to new users, and a full license costs $35. Owners of previous versions can upgrade for $15, though if you purchased after November 1, 2009, the upgrade is free.