At a Glance
Expert's Rating
Pros
Dual cassette decks allow for dubbing
Simple to set up
Cons
Hardware feels cheap
EZ Audio Converter software doesn't offer automatic tagging
Tech support leaves a lot to be desired
Our Verdict
At last count, the Facebook page "When I was younger I would record my favorite songs off the radio onto tape" had more than 875,000 fans. That says something about the popularity of cassettes. And while the audio fidelity of cassette tapes was never that great, the compact size and ease of recording audio to tape made the format very popular. I have two large boxes of cassettes—demo tapes of friends bands, mix tapes, guitar lessons, and more—that I've lugged around with me every time I've moved over the last couple of decades. I'd love to have easy access to the contents of these cassettes, but the cassettes themselves I'd prefer to live without.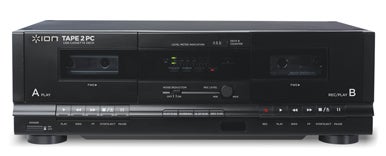 With it's Tape 2 PC, Ion Audio is betting that my situation is not unique. You connect the Tape 2 PC to your Mac via the USB port on the Tape 2 PC's back and included cable. OS X recognizes the device automatically and lets you capture audio directly from the deck using the supplied software or other audio editing programs. (You can connect the Tape 2 PC to your home stereo receiver via the RCA line-out ports and use it as a standard dubbing cassette deck.) The Tape 2 PC is lightweight, but in a way that makes it feel cheaply made. At the same time, it did a pretty good job importing tapes—audio I captured with it sounded the same on my Mac as it did played directly through a tape deck.
But although the hardware setup couldn't be easier, the software for capturing, editing, and saving your audio files could still use some work. Ion provides two Mac recording applications, the open-source Audacity and EZ Audio Converter. Audacity is full-featured, but its user interface could intimidate many technophobes. It offers multiple format and quality settings, as well as noise reduction tools. Audacity can also analyze your imported audio and take a stab at splitting your one large file into separate tracks based on silences between songs. This process isn't obvious, however, and it took visiting the Audacity Wiki to find the instructions. The built-in noise reduction plug-in, however, did a decent job of removing hiss from a tape I imported using the Tape 2 PC.
EZ Audio Converter provides a much more attractive interface and is simple to use. Unfortunately, the software offers no automatic track splitting, requiring you to push the large New Track button between each song while recording. There also doesn't appear to be any way to change the file type or quality that EZ Audio Converter uses from its default 160-kbps, 44.1kHz MP3 files. When you finish recording, the application presents you with a tagging screen where you type in the artist, album title, and song title for each track.
As with Ion's LP 2 CD ( ), the software CD that shipped with the Tape 2 PC came with an outdated version of EZ Audio Creator, and the company's site made it difficult to download an updated Mac version. Contacting tech support for help was a frustrating experience. I filled out a Web support form and followed up with a phone call that took me into voicemail. It took almost two weeks until I received an e-mail reply, and although the e-mail included a direct link to the latest Mac software, the tech support person suggested I use a PC application to unzip the file.
Macworld's buying advice
Ion's Tape 2 PC is a relatively simple way to convert the audio on your cassette tapes to digital files for use on your computer. The process for editing those imported files, however, can be either complicated or time consuming, depending on which provided Mac application you use. You may have an easier time using different software.