Are You Alright?, a medical themed time-management game by Meridian, starts off with an interesting premise. You are Doctor Chloe, daughter of a brilliant inventor. Your father has invented some new medical machines, and you have decided to demonstrate the machines at different hospitals around the world. Unfortunately, bugs and long load times distract from an otherwise enjoyable experience.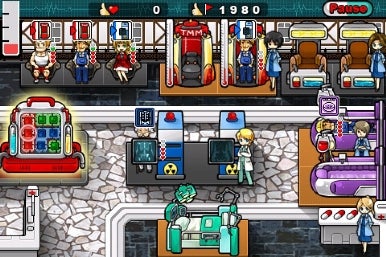 Your job is to keep your patients happy (and alive) by directing them to different machines and operating said machines in a timely fashion. To keep you on your toes, some of the machines require you to play a mini-game (such as finding the missing piece of an x-ray or removing shards of glass from a patient's skin). As the levels progress, more and more mini-games are added to the mix (be careful though—the margin for error is very slim).
There are different types of patients—some will give you more "prestige," while others will decrease in health very rapidly and require faster care. Your goal is to get each patient what they need as fast as possible in order to earn the most "prestige." At the end of each level, you can upgrade your machines/hospital staff with your earned "prestige." There are 70 levels in the story mode and 50 levels in the "Time Attack" mode.
Unfortunately, Are You Alright? is very buggy—the very first time I opened it, there was a lot of flickering on the screen, and the music kept pausing. After this not-so-stellar start, there was unusually long loading time between levels, but that was my only complaint—for awhile. After two days of on-and-off playing, I picked it up to find that I couldn't get past the opening screen. The game would show the splash screen for about ten seconds before shutting down.
I'm not usually a big fan of time-management games, but I was surprised by how much fun I had while playing Are You Alright?. The mini-games and upgrades make it very enjoyable, and the cutesy anime-style graphics are well-done. However, Meridian needs to fix some of the bugs—and soon—because the lag time between levels were enough to put me off of playing the game several times. I would probably give it 4+ stars, were it not such a hassle to play.
[Sarah Jacobsson assures you it's not lupus. It's never lupus.]