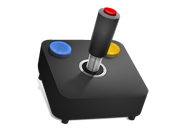 Now that Valve has pledged to support the Mac with the forthcoming release of Steam on Mac OS X and simultaneous Mac and PC releases for all its upcoming games, several in the gaming industry have been quick to respond with their own pledges of support.
First up is an announcement from Razer. Razer is known for being the leading developer of ridiculously sensitive mice, more complimentarily known as "precision gaming mice." They're perfect for fast, precise movements in games that demand pinpoint accuracy. The company also makes gaming keyboards and lifestyle peripherals targeting a very specific niche of gamers that invests heavily in this equipment.
On Wednesday at the Game Developers Conference (GDC) in San Francisco, Razer pledged to have drivers for the Mac available for all its upcoming products. In addition, Razer has announced the availability of full-featured Mac drivers for the MMO gaming Naga mouse and the original, black DeathAdder mouse.
Back in 2008, Razer released a white Mac version of the Razer DeathAdder mouse. The Mac supports basic functionality for the Razer Orochi, Mamba, and Imperator mice right out of the box, but Razer plans to release enhanced drivers for all those products later this year.
Then comes a series of widely reported statements from Gas Powered Games's Chris Taylor and EA DICE's Karl Magus Troedsson. Both developers already have games on Steam, but to date they've both been developing games exclusively for the PC and consoles.
Chris Taylor told The Escapist on Wednesday that "we, as a developer, will include a Mac platform option in all of our proposals moving forward. We're in 100% support of it. Absolutely." Citing rising market share and similar hardware, Taylor claims that the Mac is a "very easy platform to bring PC games over to."
Taylor's Gas Powered Games just released Supreme Commander 2 for the PC on Steam last week. The company's other games include the Stardock-published Demigod , Dungeon Siege , Space Siege , and the forthcoming Chris Taylor's Kings and Castles .
DICE has Battlefield: Bad Company 2 Limited Edition , Battlefield 2, and Mirror's Edge on Steam right now. For the Battlefield titles, they've observed more people playing the games online on the PC than on the PlayStation 3 and the Xbox 360 combined. As with Razer, DICE's last release for the Mac was in 2008, and it was a port of its Battlefield 2142 title.
Troedsson posted a tweet approving on Monday praising Valve's announcement of a Mac port of Steam; not long after, the Universal Gaming Database interviewed Troedsson to ask if his company had anything planned. His statement was terse, but optimistic: "We're currently investigating the possibility of making [Battlefield Bad Company 2] available on Mac." Past releases from EA have been Cider ports, but significant demand from a Mac-only gaming audience could push the company to start producing native ports.
Does this mean that the gaming industry has finally started to take the Mac seriously? Perhaps. At the very least, they see a potential market, and with Valve finally on board alongside industry heavyweight Blizzard, more developers will surely follow.