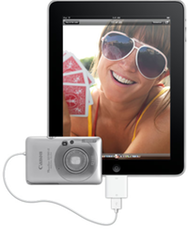 While the Apple Store is allowing pre-orders for a number of accessories alongside the iPad, one accessory is missing in action: the iPad Camera Connection Kit that Apple shows off on the iPad's specs page and elsewhere.
Before a full-fledged dongle-based panic hits the streets—and yes, that's rather about as frightening as it sounds—take a deep breath. You can still order the iPad dock, keyboard dock, VGA adapter, and case to tide yourself over in the meantime. Just relax.
There's little information on the Camera Connection Kit, which Apple didn't discuss at its iPad event in January. We do know that one of the adapters provides a USB port and the other an SD card slot, and both feature a 30-pin connector that plugs into the iPad's dock-connector port. If Apple's page on the iPad's Photos app is any indication, imported images show up in the app alongside images synced from your computer. The iPad supports most of the common image formats used by digital cameras, such as JPEG, RAW, and TIFF. It's unknown whether it will import video files that many cameras can shoot and, if so, what formats.
It is worth noting that the camera connectors do resemble a similar adapter available for the iPod once upon a time, which sold for $29. One would presume the technology hasn't become particularly more expensive or difficult to make in the past five years, so our bet's on the kit being available sometime around April 3.