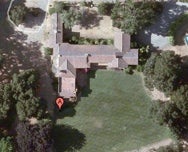 Steve Jobs is accustomed to bringing the house down—unveiling remarkable devices like the iPad, the iPhone, and the original iPod make that a pretty common occurrence. Now, though, after an extended battle, the Apple CEO can finally bring down the other house he's been trying to raze for so long. Maybe.
Here's the background: In 1984, Apple introduced the Macintosh, and Jobs bought a 17,000-square foot mansion in Woodside, Calif. The mansion—built in the 1920s by San Francisco copper magnate Daniel C. Jackling—somehow never really impressed Apple's CEO, who called it "one of the biggest abominations of a house I've ever seen." The home includes 14 bedrooms and 13.5 bathrooms, and sits on a 6 acre lot.
Jobs has long wanted to tear down the giant house, building a smaller one in its place. He first applied for a permit to demolish the property back in 2001. But the Woodside Town Council considered the property a "historic resource," and it took until 2004 for Jobs to first receive the permit he sought. That permit, however, was subject to legal challenges—again, because of the property's historical significance. Four years later, Jobs re-applied for the demolition permit.
A hearing on that permit request was held in April 2009. Jobs, battling now-famous health issues, did not attend. A month later, the Town Council relented, and Jobs finally secured permission to tear down the house that Jackling built.
Of course, that wasn't how the story ended. In June of 2009, Jobs struck a deal with investor Gordon Smythe to disassemble and move the house to another location, at a cost to the Apple executive of $600,000. That deal apparently fell through.
Which brings us to today. The San Francisco Chronicle reports that a judge has given approval for Steve to tear down the home, confirming the Town Council's decision that restoring the mansion—the mold-ridden, bird-infested, and rot-besieged mansion, that is—would be hugely expensive. The judge's ruling lets Steve do something he's plenty good at: apply for another damn demolition permit.
But guess what? A group called "Save Our Heritage" is considering appealing the latest ruling. The group wants Jobs to accept a new, different offer from wealthy folks to help disassemble and relocate the house. This time, the offer comes from Jason and Magalli Yoho, who own land just two miles away from the mansion, and would move the house there.
Look for Macworld to provide continued updates on this story—through 2030 and beyond.
This story includes reporting from Dan Moren, Jason Snell, and Cyrus Farivar.