The Moron Test is a $1 App Store mainstay, frequently ranking as one of the top sellers in Apple's online emporium. I've steadfastly ignored the title; I don't consider myself a moron, and I figured it was some dopey gimmick.
I'm delighted by how painfully wrong I was. DistinctDev's a hoot. In fact, The Moron Test is the special kind of game that's equally fun to watch somebody else play. You're presented with a seemingly-endless series of instructions:
"Touch the green button twice."
"Touch the ducks in order of eye size, from biggest to smallest."
"Touch the smallest egg."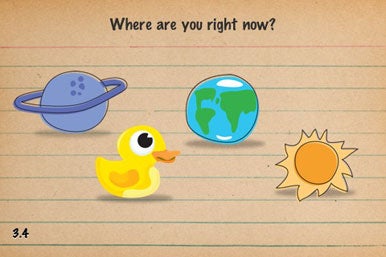 Many questions are intentionally tricky, and you'll find that you're forced to start over repeatedly. But it's fun to figure out why you keep screwing up, mastering the right moves, and improving upon your best times. The developer claims that it will continue to release new "classes," and each of the three in the game so far are packed with 100-plus steps. The soundtrack is painfully repetitive, although it certainly suits the game. The Moron Test is infuriatingly addictive, delightfully drawn, and very entertaining.
The Impossible Quiz, on the other hand, is everything I feared The Moron Test would be. The Impossible Quiz has existed as a PC game and online game for a while, and the iPhone version from InXile Entertainment has a few tweaks, but lacks all of The Moron Test's charm.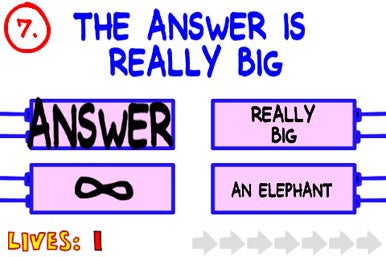 In The Impossible Quiz, some questions are nonsensical; you've got to learn the answers by trial and error, or by Googling for cheats. Screw up more than three times, and you're forced to start over at the beginning of the 100-question test again. I suppose in many ways this quiz lives up to its name, but I just fail to find much fun in choosing, for example, that "An Elephant" is the right answer to "THE ANSWER IS REALLY BIG," as opposed to infinity, "Really Big," or a large-fonted "THE ANSWER."
This quizzer captured my attention for ten minutes, and that was only because I had this review to write. Where The Moron Test aims to be devious fun, The Impossible Quiz just aims to be obnoxious.
The final quiz game I looked at was Are You Smarter Than a 5th Grader? 2010 from Capcom Interactive. We weren't fans of the 2009 edition of the game, which was bogged down by being buggy and sluggish.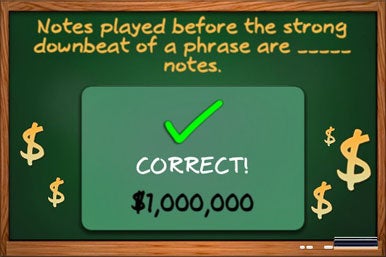 Good news for fans of the TV game show: The 2010 edition seems way smoother. The game looks good, and its performance seems snappy and bug-free. As for the gameplay, it's as faithful a recreation of the show as is possible without genuine human children getting involved. You'll pick from a small group of fifth graders, each specializing in different subjects. Then you pick a category, and you have an unlimited amount of time to come up with the answer. You're allowed to peek at your student helper's answer, or copy it outright—but you can only use each cheat once. (Oddly, though, the game requires that you keep picking fifth grade partners every couple questions, even if you've already used up your cheats.)
This is the only true trivia-style game of the three I looked at. Questions cover a wide range of topics, and as in last year's edition, I haven't encountered any repeat questions in my testing. Whether you're a 5th-grader or a real live grown-up, these questions are often challenging, and scoring the fake million dollars is as satisfying as winning fake money can be.
[ Lex Friedman chooses to plead the fifth when morons ask him to do the impossible.]