At a Glance
Expert's Rating
Pros
Easy to use
Quick initial diagnostics
Detailed Web reports
Cons
Requires Internet connection for generate diagnostic reports
Limited number of monthly reports
Additional fees for technical bulletins
Our Verdict
It's one of the great uncertainties of car maintenance: the check engine light. Once illuminated, this light can cast immediate doubt over your car's health and make you fear for your pocketbook. To put you at ease, CarMD can show you what's going on under the hood so you'll be better prepared when the mechanic hands over his estimate.
CarMD comprises of two main components. First, the handheld tester, gathers system diagnostic information from your car's Data Link Connector. All cars manufactured after 1996 have such connector, and you can locate yours by simply specifying you car's year, model, and make on CarMD's Website. The second component, the CarMD software, acts as a conduit for the tester to send data to CarMD's Web browser-based reporting tool.
You don't need much mechanical aptitude to use the tester. After you locate your car's Data Link Connector, connecting is very easy—plug it in, turn your car on (no need to start the engine) and the tester collects data within 30 seconds. I tried the tester on a 2006 Acura RSX and a 2004 Toyota Camry, and was successful right off the bat.
When data has been retrieved (the tester will beep four times to verify), you can do an initial diagnosis by looking at the color of the tester's three LEDs. A green light means everything's OK, yellow means there's a possible problem or the tests didn't complete, and red means trouble. Yellow and red lights are accompanied by error codes that pop-up on the tester's display. These codes can be matched up with possible causes of failure in CarMD's Web diagnostics reports.
The software is really only used for sending data to CarMD's Web portal. Its other functions are to disconnect the tester, provide access to the PDF user manual, and direct you to the Web portal login and help pages. The software could be more useful if it provided a summary of the collected data, but CarMD wants to direct you to its Web portal to get a diagnostic report—that means you need an Internet connection. Without an Internet connection, you can't access the Web portal, and ultimately, you can't get a diagnostic report. (The diagnostic codes can be found on the Web without using the CarMD software by performing a Web search in your browser.) You can, however, call an ASE Certified tech at 888-692-2763 (888-MyCarMD) and they will give you a diagnosis over the phone.
When you do generate a diagnostic report, they can help you decide to make repairs yourself or be used to compare your mechanic's diagnosis to yours. Chances are, your mechanic will run (or insist on running) the same type of diagnostic tests—I'm not sure a mechanic would simply take the CarMD report and rely on it, while at the same time miss the chance to charge you a diagnostic fee. I see the CarMD reports useful if you don't know anything about cars and want to confirm the diagnostics with the mechanic to keep him honest. Also, it could be helpful if you're in the market for a used car to check if anything is wrong.
Unfortunately, reports are only limited to two per vehicle a month, and access to technical service bulletins by your car's manufacturer will cost you more—$2 per bulletin or $20 for one year of unlimited access when upgrading to CarMD's premium plan.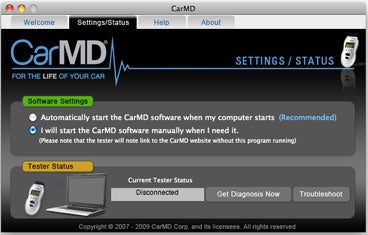 Macworld's buying advice
CarMD's easy-to-use tester and informative Web reports can help uncover what's ailing your car, so long as Internet access is available. The whole package at $99 on top of what you might have to pay in repairs is pretty steep, but at least you'll be relieved of some of that car repair-induced anxiety.