The MacBundles has put a new spin on the now well established software bundling promotion. In addition to offering the usual "batch of a dozen software titles for $50," the MacBundles has created a BYOB (Build Your Own Bundle) option that lets you customize the package.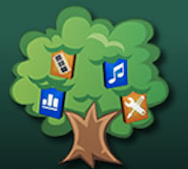 The standard March bundle includes Cashculator (a personal finance app), CrossOver Games (a game-oriented virtualization platform), DVDpedia (a movie cataloger), PrintMagic (a printer manager), HoudahGeo (a geotagging tool for photos), HoudahSpot (a file searching assistant), Image Framer (an image framing design app), MainMenu (an OS performance and maintenance tool), Punakea (a file manager), Berokyo (a desktop organizer), Brush Pilot (a brush-preview tool for Adobe applications), and Master Key (a typing tutorial).
The BYOB option lets you pick from these twelve titles, plus a few others. You must select a minimum of ten at a price of $5 a piece. That means you can skip the software you already own.
The MacBundles touts the fact that it offers a 30-day guarantee. So if you suffer from buyers' remorse, you can get your money back. Both the standard bundle and customized version are available until April 12. Be aware that some of the apps require an Intel Mac and OS X 10.5 or higher.