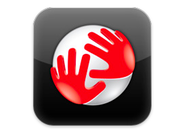 The only thing worse than being lost is being lost while stuck in traffic. Come to think of it, being stuck in traffic is pretty bad to begin with. Thankfully, TomTom USA 1.3 adds support for traffic updates, helping you avoid congestion and trouble places, as well as bringing a handful of other new features.
TomTom's always helped you find the shortest route between two points, but the 1.3 update now factors in traffic density to make your driving even more efficient. Updates are retrieved invisibly every three minutes, to keep up with ever-changing road situations. The service costs $20 a year, with quarterly, monthly and daily payment options also available. An extra $20 per year might be a bit steep for some, but fortunately it's a completely optional add-on.
Lest you think it's all about the additional fee, TomTom 1.3 also adds some features for all users, such as Google Local Search to help you find businesses of interest within a given locale. Need some food, fast? How about a place to fix your car, or perhaps even an Apple Store? Just search from the TomTom app and it will not only help find what you're looking for, but get you there.
This update also adds a few other new features. An automatic day/night mode brightens or dims the screen depending on the time of day and intelligent music fading allows you to hear the robot voice over some sweet heavy metal, so you don't miss a turn while rocking out. The latest version of the TomTom maps come packed into this update, to make sure you don't run into any surprises. In addition, coordinates and locations can now be acquired from any other app or Website on your iPhone and sent to the TomTom app for your later navigation needs. Finally, pinch-and-zoom support allows you to zoom into TomTom's map for greater detail, just like the iPhone's built-in maps.
The 1.3 update also applies to all of TomTom's various offerings, which cover locations from the Mexico to New Zealand, and many places in between. Every version of the app requires iPhone OS 3.0 or later and prices vary depending on what the maps, from $50 to $100. iPod Touch users need the TomTom Car Kit for its GPS to run this app, but penny-wise iPhone users can use their built-in GPS just fine.