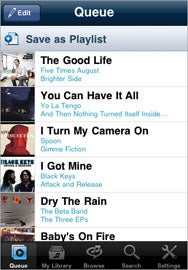 Real's Rhapsody iPhone app has had mixed reviews since its initial release last September. The companion app to the $15 monthly service requires a 3G or Wi-Fi signal to listen to any of the music, frustrating some users. Rhapsody's development team has been hard at work on an offline play option to help remedy these woes, and now it looks as if the feature might finally be ready.
The company's product team released a news brief on Monday along with a YouTube video (embedded below) showcasing the new version. Users can download songs over 3G or Wi-Fi by first creating a playlist on their device, then tapping on the new Save button that appears at the top of the list of music. Playlists with saved songs are highlighted in orange, while regular streamed playlists remain in black.
When the device's network connection is unavailable, the app only displays downloaded songs and playlists, so as not to confuse listeners and the color of the menu bar even changes to let you know you're offline.
Downloaded songs can be listened to and accessed from the device as long as the user is subscribed to Rhapsody's service; once a user drops the subscription, the songs presumably become inoperative. Sadly, the new version isn't yet available to the public, though Rhapsody's planning on submitting it to the App Store "very soon." Until it lands, users will have to be satisfied with the YouTube video and their existing app. Still, it's nice to know the update is coming eventually.
Read more…