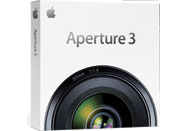 Yet another fix for Aperture 3 users came down the pipeline on Monday in the form of Aperture SlideShow Support Update 1.1.
Similar to its 1.0 predecessor, 1.1 addresses an HD video clip playback issue. For Snow Leopard users, Aperture 3 slideshows with trimmed HD clips should "now remain properly synced" with their audio.
Apple recommends all Aperture 3 users install this update—you can either download it directly from the Apple Website or run Software Update. The patch is 3.29 MB in size.