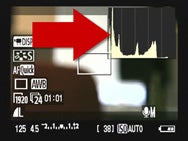 Canon released a firmware update today for its EOS 5D Mark II camera. The free firmware update 2.0.3 adds a handful of new video capabilities to the 5D Mark II, including the ability to shoot at 24 frames per second, which creates a more film-like look. Additionally, the camera's 30 fps rate has been changed to 29.97 fps to make it compatible with current television standards.
This update also gives users the ability to manually adjust sound recording levels (previously only possible with a third-party device), and sound quality has been bumped up to 48 KHz from 44.1 KHz. Shutter-priority and aperture-priority modes are now compatible with shooting video, and users can access the camera's histogram mode when shooting in manual mode.
One of the first DSLR's to shoot quality HD video, the EOS 5D Mark II has taken off among filmmakers and videographers since its 2008 debut. Its low-light sensitivity, excellent image quality, shallow depth-of-field, and interchangeable lenses have made it a popular alternative to traditional video cameras. Canon has done a good job of growing that customer base, listening to requests from the video community and updating its firmware accordingly. Last year it released an update that added manual exposure control for video.
The new firmware update can be downloaded immediately from Canon's Website.