Editor's Note: The following article is reprinted from GamePro.com. For more gaming news, visit GamePro's news page.
Around 19 percent of companies building iPhone applications initially came from traditional video games, according to an analysis of iPhone developer origins. Games were only outmatched by devs who just wanted to build apps for the iPhone and those coming from the Internet.
The Silicon Valley Insider took data provided by application tracker, Flurry, and sorted into this fancy chart.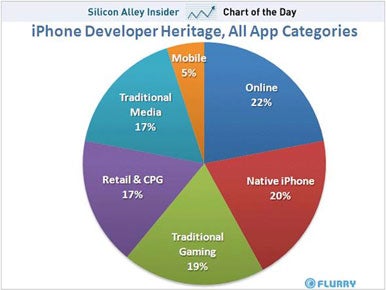 The publication notes that Google and eBay made up a big bulk of the "online" pie slice. To give you an idea of the numbers we're talking about here, Flurry says 35,000 unique companies released applications on the App Store since it launched. Nineteen percent of that is 6,650.