Editor's Note: The following article is reprinted from the Today @ PC World blog at PCWorld.com.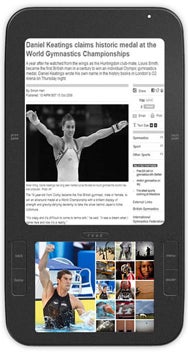 If you've been anxious to get your hands on the Alex eReader from Spring Design, you won't have to wait much longer. The e-reader, which sports an unusual, double-display design, is now available for pre-order and will be shipping on April 14.
The Alex eReader garnered plenty of attention when it was shown at CES 2010, thanks to its unusual design. It features a six-inch E-Ink display, with a 3.5-inch LCD beneath it. That second display comes at a high premium, though: The Alex eReader costs $399—more than $100 more than competitors like Amazon's Kindle 2 or Barnes & Noble's nook. But from what I've seen so far in using the Alex, that display has a positive, transformative effect on the efficiency and usability of the Alex.
Tuesday, Spring Design announced the device's basic specs. The Alex supports EPUB, PDF, HTML, and TXT formats. It also offers Wi-Fi connectivity and features a full Android Web browser. It comes with a limited selection of Google Android apps, including the calculator, e-mail, photo gallery, and music player. And, while there's no link for the Android Market, you can download Android apps from sources like androidfreeware.com.
What's particularly interesting about the Alex is that it allows you to download files to and read them directly from the device. For example, you can download a PDF within the Web browser, save it to your Alex Library, and then read that PDF the Alex electronic display screen—a trick you can't currently do with devices like Apple's iPhone.
For now, the BookStore icon links to Google Books; additional links will appear as Spring Design announces further bookseller partnerships.
[Editor's note: the Spring Design Website was inaccessible when this story was posted.]