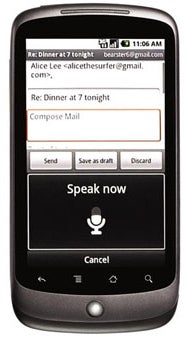 Google's Nexus One smartphone is the flagship of the Android fleet. Sold by Google itself via its online store, the phone was unveiled in January for use on the T-Mobile network, with future versions planned for other carriers. On Tuesday, the first of those took its bow as Google announced a Nexus One compatible with AT&T's 3G network.
Unlike the T-Mobile version of the Nexus One, the AT&T-compatible model isn't available at a subsidy from the carrier. Customers have to buy the unlocked AT&T-compatible version of the phone, which costs $529. By contrast, those who wish to use the phone on T-Mobile have the option of buying a T-Mobile-compatible unlocked phone for $529 or signing a new two-year commitment with T-Mobile and getting the phone for a discounted price of $179.
The AT&T version of the Nexus One is also compatible with the Rogers network in Canada, the same provider that sells the iPhone and, for the first time, Google will ship the device to Canada.
While both T-Mobile and AT&T use GSM-based cell phone standards, the two networks use different frequency bands for their respective 3G traffic. Hence, the T-Mobile-compatible unlocked Nexus One could be used on AT&T, but only at EDGE speeds. Both the T-Mobile and AT&T versions of the Nexus One can be used internationally in most countries.
When it originally launched the Nexus One, Google said that it expected the phone to be available on the Verizon network sometime this spring. Verizon's 3G network uses the EVDO protocol, which is completely incompatible with GSM-based standards, and thus requires entirely different hardware.
With AT&T under its belt and Verizon on the way, Google is taking the shotgun approach to Apple's sniper rifle, aiming for customers on all of the U.S.'s major networks rather than just one. While there may be virtue in getting the device to as many customers as possible, the potential confusion over which model a consumer needs to buy may not be worth the tradeoff. Apple's approach is certainly far simpler: there's only one iPhone and if you want it, you need to be on AT&T.
Whether or not Google's strategy will pay off remains to be seen: the latest market share results show Android still well behind the iPhone, though gaining. Additionally, a report on Tuesday from an analytics firm estimates that Google has only sold 135,000 of the phones in the first 74 days of its availability, in contrast with even the original iPhone, which racked up 1 million sales in the same time after its launch.