It's almost comical how frustrated I was when I first started playing Zepi, a "match-three" puzzle game from OstinGames. Zepi is a ridiculously easy game to play once you figure out how, but the tutorial is remarkably difficult to understand.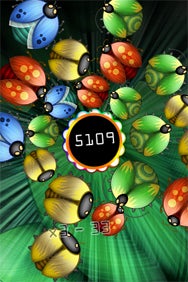 The tutorial desperately needs an animated—or at the very least, illustrated—demonstration. The instructions tell you to "tap bubbles to build a chain," which led me to believe that I should be moving things around, hence "building."
Wrong. To play Zepi, you tap all of the bubbles in a single color (two at least), pause for a moment so they can burst, then watch as more bubbles move in to replace the displaced bubbles. The "chain" the tutorial refers to is your incentive to let the screen fill up a little, because the more bubbles you hit at a time, the more points you get. While the formula seems simple, the action becomes get pretty intense the longer you play—the flood of bubbles soon becomes an onslaught and you have to start furiously tapping the screen to keep up.
And that's pretty much all there is to it. The graphics are brilliantly bright colors and offer fresh, fluid movements. You can rotate the screen for a different view, or change the theme from primary colors to "cold" colors or bugs.
Zepi might be more satisfying if the game offered varying difficulties or some sort of unlockable succession of levels. Instead, improving your high score is the main focus of the game, which makes it perfect for short bursts of play.
Zepi is a great game to kill a few minutes here and there, but you might not want to work yourself up so much if you're playing it, for example, in the waiting room before your yearly stress test.
[Meghann Myers is an editorial intern for Macworld.]