When Apple announced the server edition of its popular Mac Mini late in October, I was excited that the company was finally offering a low-cost small-business server at a terrific price point ($999; Get best current price) for both the hardware and an unlimited license of Mac OS X Snow Leopard Server.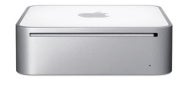 I'm a big fan of Apple's server platform. Mac OS X Server is based around open standards and includes a range of enterprise-grade technologies that offer a host of powerful and flexible features: Open Directory (a scalable directory service based around OpenLDAP and Kerberos); established Internet hosting platforms like Apache, BIND for DNS hosting and Dovecot-based mail service; collaboration tools based on open standards like CalDAV and CardDAV; a range of deployment and client management tools; and powerful multiplatform file and print services. Best of all, it makes these features easily available to both experienced administrators, novices who have never set up a server before and everyone in between.
For small businesses with limited—or, in some cases, no—IT staff, having a flexible and robust server platform is important. So is easy setup, management and backup. I've talked previously about the two most recent iterations of Mac OS X Server ( Leopard Server and Snow Leopard Server), which offer simplified management through an administration tool—Server Preferences—as well as Mac OS X Server's more robust GUI management utilities and various command-line tools.
Server Preferences, which is patterned after Mac OS X's System Preferences, combines the core functions of a typical small business or workgroup server in one place, whether it's file or printer sharing, e-mail and Web site hosting, server and client backup management, client autoconfiguration, VPN access or hosting Apple's suite of collaborative tools (including shared calendaring, shared contacts, and Apple's wiki and blog services). It's designed to be intuitive enough for any Mac user to manage.
The types of companies where Server Preferences and its simplified approach to administration shine—small offices or workgroups with a limited number of workstations and users—are exactly the market Apple has targeted with the Mac Mini server. They're the kind of shops where an Xserve or a Mac Pro functioning as server hardware would be complete overkill, both in terms of unused potential and cost.
Over the past several years, I've worked with many of these types of small businesses. In the days before Leopard Server—the predecessor to Snow Leopard Server—and Server Preferences, I usually wound up installing a server and being on call for even the most routine tasks, like adding or deleting new users, adjusting access rights to services or file shares, and verifying backups. Once Leopard Server arrived in 2007, my direct involvement dropped, since companies finally had a familiar and easy-to-use means of handling these tasks.
Regardless of my own involvement, I often recommended that these small firms (typically anywhere from one to few-dozen employees with basic needs) buy Apple's server software and install it on a Mac Mini. Although not big on size or raw computing power, the Mac Mini has always had at least enough power to meet the needs of these less-than-demanding environments. That's also why I was immediately taken with Apple's decision to launch the Mac Mini server configuration ( as was Macworld's Jason Snell.)
A true small-business server
The Mac Mini server offers a very small footprint and low power requirements, and it runs cooler than virtually any desktop computer. Those features make it ideal for small-business environments. Its size—6.5 in. square and 2 in. high—means it can be placed in a small locked closet or ventilated storage cabinet for easy security.
Price is also a big draw. For $999, businesses get a server with unlimited client access licensing to all the features that can be run on Snow Leopard Server. And the hardware, while not cutting-edge, is solid: There's a dual-core 2.53-GHz Core 2 Duo processor, the Nvidia GeForce 9400M integrated graphics chip set, five USB 2.0 ports, one Gigabit Ethernet connection and a FireWire 800 port. This contrasts sharply with Microsoft's Windows Small Business Server 2008, for instance. It starts at $1,089 for just the server license—without the hardware—and five client access licenses. (Additional client licenses can be purchased singly for $77, in packs of five for $385 or 20 for $1540.)
It's also important to note that a Mac Mini server isn't restricted to using the built-in Server Preferences. If more-varied features like client management and small-scale workstation deployments are needed, the more robust management tools for Snow Leopard Server are available. This allows companies to get the most value from their small investment because they can take advantage of more features as their needs change or business grows.
Small companies also represent a fairly strong market for the iPhone, iPod Touch and the soon-to-be-released iPad. Many of the collaboration tools built into Snow Leopard Server (regardless of the management tools) are designed to pair well with the iPhone platform. That makes the Mac Mini server a logical choice for businesses interested in both Mac and Windows clients—Mac OS X Server supports both platforms as well as other Unix/ Linux flavors, along with its support for Apple's mobile devices.
Not a home or media server
One thing I've been asked about the Mini server is whether it would work as an effective home server. While it can function as a household file, print and backup server, you'd be better off with Apple's Time Capsule. It's designed to be a wireless access point, a network storage and print server for both Macs and Windows, and a network-based Time Machine backup location.
I'm also asked whether it might work at home as a media server. And I give the same answer: It's possible, but it isn't the best option. Home media servers come in many forms. The simplest, from an Apple perspective, is to use the sharing features built into iTunes running on a Mac or PC in your home. You can even dedicate a low-end machine to media server duty and have an excellent—and cheaper—setup that other machines can access. Or you can use network-attached storage devices that are designed to act as a central repository for media that can be accessed by other computers, set-top boxes and other devices. Using a Mini server is almost certainly overkill, and while it can run iTunes and other media tools, so could a $499 Mac Mini, an iMac or a low-cost PC.
Setup and performance
Setting up a Mac Mini server is easy, even for someone who's never set up a server before. Snow Leopard Server comes preinstalled, and the Server Assistant utility is launched automatically on first start-up. The assistant automatically detects the network environment the server is connected to, asks easy-to-understand questions about the type of setup and services you want, and creates the primary administrator account in just a few minutes.
With the initial setup complete, the available services are pretty much ready to go. You can choose to have the server automatically configure new or existing workstations to access its resources and services, send invitation e-mails to existing users with computers that may already be configured, or set up access manually.
In its default configuration, the Mac Mini server includes two 500GB internal hard drives, with the second drive occupying the space normally reserved for a traditional Mini's optical drive. Like the MacBook Air, you can install software and even erase and reinstall the operating system by sharing an install CD/DVD from the drive of another Mac or Windows computer on the same network. You can also buy the $99 external USB DVD drive available for the MacBook Air to use with the Mini server.
There's no real right or wrong way to work with the configuration of the two internal hard drives. By default, they exist as two different, unpartitioned volumes (one of which is used as the server's start-up drive). You can keep this configuration and use both for storage or use one as a backup drive. You can also combine the two using RAID to act as either a single large volume, a striped volume for increased read/write performance, or a mirrored set in which data is written identically to both drives so that in the event of a failure of one drive, the server will continue functioning without interruption.
Each option is fine, depending on your needs or preferences. The one setup I wouldn't recommend is using the second internal drive for Time Machine backups. For convenience and a bit more security, I'd use a larger external drive that's at least 1TB.
The Mac Mini server comes with only a single Ethernet interface, but it also offers 802.11a/b/g/n wireless, making it an ideal choice in businesses and offices where cabling may be difficult or costly. If additional Ethernet interfaces are needed, you can use the USB-to-Ethernet adapter that Apple sells for the MacBook Air. The five available USB ports give you some room to expand Ethernet access.
Performance with the Mini server is good for a small business, but it's no barn-burner. With the 2.53-GHz Core 2 Duo chip and 4GB of 1066-MHz RAM, it can easily handle basic services for a few-dozen computers without buckling. Although you could theoretically support even more users, I'd suggest that you limit the number to no more than maybe four-dozen users. I'd also be hesitant about using it to host corporate Web sites for the Internet at large.
But for internal use by a small number of people, the Mini server does really well for its size and price.
Final thoughts
The Mac Mini server is a well-priced solution for small businesses. It can scale up to a point as a company grows or its business needs change, but it really isn't designed to take the place of a more powerful server in a larger business or enterprise environment. That doesn't mean it's limited in features; it offers the same services as a top-of-the-line Xserve, albeit on lesser—and less expensive—hardware. The ability to handle basic functions like file and printer sharing or to run a small intranet, intraoffice IM server or any of the other services that Mac OS X Server offers, makes it an ideal product for small offices, design firms, schools and retail shops.
[ Ryan Faas is a freelance writer and technology consultant specializing in Mac and multiplatform network issues. His most recent book is The iPhone for Work, published by Apress.]