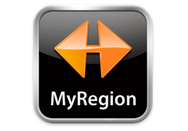 If you're looking for a U.S. turn-by-turn GPS app for your iPhone, but you don't travel much outside of your home base, you might consider Navigon's new MyRegion app, available for the east coast, west coast, and center of the United States.
The advantage to MyRegion is simple: not only is it pretty affordable for a turn-by-turn app at just $30 (or, until April 12, $25), but the program actually contains the map for the entirety of the continental U.S., so if you decide to road trip to Kansas or rent a car while you're in California you can quickly unlock the maps for the relevant portion of the country via in-app purchase for an additional $15 ($13 until April 12). Also available is support for live traffic, which costs $25 extra ($20 until April 12). By contrast, MobileNavigator for North America, which includes all of the U.S. and Canada costs $80, plus the additional cost of live traffic updates.
Other than the maps, MyRegion is pretty much the same as version 1.4.0 of Navigon's MobileNavigator app, featuring portrait and landscape orientations, voice prompts, 2D and 3D map displays, integrated iPod control, and more. MyRegion also has the MyRoutes feature that will surface in MobileNavigator 1.5.0 sometime this spring.
Navigon MyRegion is available in three flavors: East, Central, and West. All run on iPhones or iPod touches with iPhone OS 3.0 or later.