All of iWeb's built-in widgets let you spice up your site, but the most powerful of them may be the HTML Snippet. With it, you can easily bring games, blogs, multimedia, and more to your Web pages.
Here is a brief look at widgets, where you can get them, and how they can make your site more fun and interactive. There are hundreds of thousands of widgets out there for you to use, so let's get started.
What's a widget? Different sites may call widgets gizmos, badges, or minis, but they're all names for free Web applications that update automatically to add other sites' content to your own. These widgets differ from those in Mac OS X's Dashboard in that they live on the Internet, not on your Mac.
To add a widget to your iWeb ( ) site, just copy its HTML code, drag the HTML Snippet from iWeb's Media Browser onto your page, then paste in the code and upload your site. Fortunately, finding new widgets is almost this easy.
But, when adding widgets to your site, exercise the same caution you would when installing applications on your Mac. After all, widgets are applications too, and can potentially cause trouble if their developers are bent on mischief. If you're concerned about a widget, check its user comments and do a little online research before you paste its code into your page.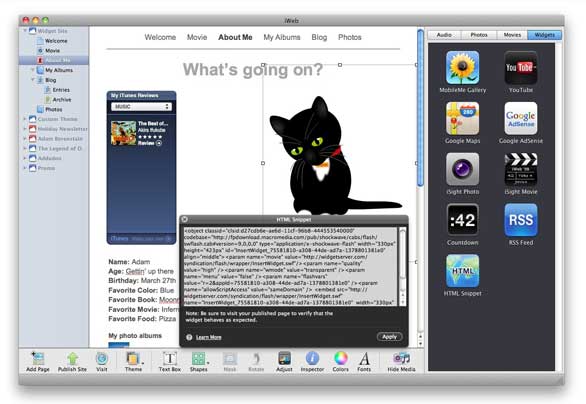 Where can you find widgets? First, check the Web pages you already visit. Many news, movie, and social media sites let you export widgets. If an official widget doesn't exist for your favorite site, don't worry. Someone may have written one, and it's probably available on a site that organizes widgets from all over the Internet. As you search, remember that not all widgets will work correctly in your browser of choice, just like some Web sites.
Besides an estimated 207,000 standard widgets, Widgetbox gives you customizable templates with which you can make your own ad-supported widgets for free (a paid subscription lets you create and embed ad-free widgets). With its slightly sterile design, the Google Gadgets site isn't nearly as fun to navigate, but it offers some 145,000 widgets and information about how you can learn to program your own from scratch. Widgipedia also boasts a sizable catalog, but its cluttered pages could be friendlier to newcomers.
Most widgets are available in multiple formats. Some are tailored for use with specific services, such as Facebook or MySpace. For the best results, choose the option that gives you HTML or code you can embed into your page. Note that many sites let you adjust a widget's size, orientation, and colors before you export it. If you redesign your pages, just export redesigned widgets to fit them.
What can widgets do? Many widgets, such as animated bobble-heads and arcade games, exist purely to decorate sites and entertain visitors. There's certainly nothing wrong with that, but widgets can help you share your more serious interests, too.
If you regularly read a blog or news site, feel strongly about an organization's cause, or are just excited about an upcoming movie, widgets let you put content from these sources directly on your pages. A few widgets can gather photos, videos, and other media you've found online. You don't have to continually link to new material from sites you care about––widgets can do the work for you.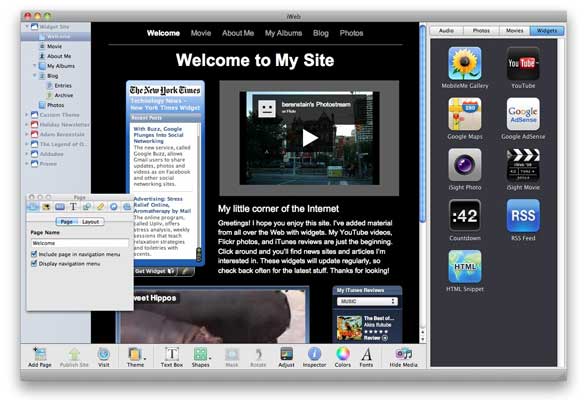 Widgets can also help you keep in touch with your audience. A poll widget might let visitors rate your site's latest design or let you know how they feel about a particular issue. However you use widgets, they can make your pages more dynamic with a minimum of effort.
[Adam Berenstain is a freelance writer based in upstate New York.]