I've been on a quest for the last several months, searching for the perfect app to track my consulting time and make it easier for me to send invoices while I'm still onsite with a client. Thinking a Web-based app would offer the most flexible and portable options, I initially focused on offerings like FreshBooks. But for sheer ease of use and power, I've found Marketcircle's Billings Touch to be a hands-down winner.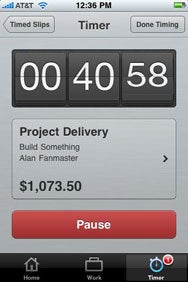 Filled with features, Billings Touch is a standalone time- and expense-tracking and billing app that's designed to work on your iPhone or iPod touch. But Billings Touch is also flexible enough that it can link and sync with the Billings desktop application. (Syncing with Billings and e-mailing invoices from Billings Touch require a $15 in-app purchase for this otherwise free iPhone app.)
Like Billings for your Mac, Billings Touch is a project-based application, which requires that you create projects, associate those projects with clients, and then create slips to track what you've done on a specific project. Slips can include a variety of different billable items including things you sell, mileage, expenses, fixed price services, and time-billed services. So before Billings Touch can be useful, you'll need to create projects. For me and the way I work the project-based paradigm adds a little extra administrative overhead that I'd rather not have, but after using the program for a bit, I can see the benefit, especially when it comes time to invoice.
To go to work, all you need to do is select the slip type that you want to use, add some basic information (such as the hourly rate you're going to charge and a name for your slip), and then kick off the timer and get busy. Billings Touch's timers continue to run in the background until you pause or stop them, even when you're using other apps. You can also use timers on fixed price slips to help you keep track of how much time you're spending and how much money you're making per hour on projects where you're charging a flat rate. If you haven't already associated a slip with a project, Billings Touch stores them as s slips, which, when you're ready to bill, will need to be associated with a new or existing project.
One of Billings Touch's best features—and what makes it a standout among mobile time billing apps—is its ability to create and send invoices. From the app's Work screen, tap any client or project and, if there are items ready to be billed, you'll see a small Invoice button appear at the top of the project screen. Tapping the button takes you to a new screen where you can select the active slips that you want to include in your invoice. You can also change the order in which those slips appear on your invoice. Once you've selected and organized your slips, you then select between three different invoice types and customize information that appears on the invoice, adding a personal note or changing its due date. Once completed, you can send your invoice right from Billings Touch.
Billings Touch can't create and send estimates or statements, provides no reporting features, and lacks some of the fancier templates you'll find in Billings for your Mac. So if you want or need those features, you'll need to buy the full desktop application and then use Billings Touch's sync feature. Those shortcomings aside, Billings Touch has no parallel on your iPhone or iPod touch.
[Jeffery Battersby is an IT Consultant, (very) smalltime actor, and regular contributor to Macworld. He writes about Macs and more at his blog.]